I'm beat. A 10 and half hour day—nine of those on my feet—for inventory. The majority of it is complete. I'll begin the number crunching tomorrow. I feel real good about it. Everyone pitched in to help.
My quilt that I've been working on didn't get completed over the New Year's holiday. Chelsey had a school project and after a little direction the sewing machine got used for it.
Check it out. Their class is reading the classic, "All is Quiet on a Western Front," by Erich Maria Remarque. Her assignment was to give each of the eleven chapters a name and find some way to illustrate the name.
Here's the picture.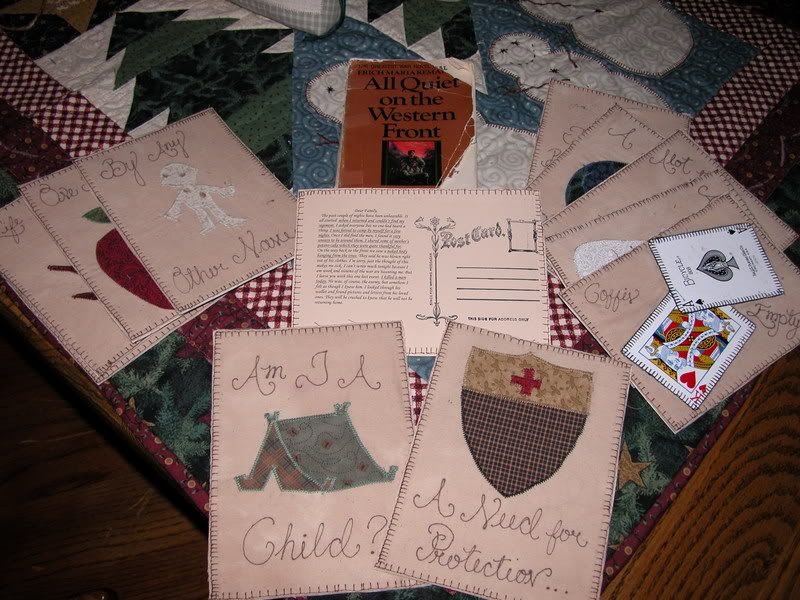 She used the principles behind the fabric postcards. There's an appliqué of a symbol describing each chapter and a title. On the other side, she typed a letter describing the symbol and the meaning in each chapter on cardstock and them stitched them together. She called it, "Letters to Home". She gave her presentation this morning. While she teases me at home about being the "Dorky Mom", I say the apple doesn't fall far from the tree…….
There's hopes of quilting tomorrow. And running Ransom. I know there's a balance between work and home life. Everyday isn't as tough at work as this one. But it was 21 degrees warmer than the average temperature for January 2nd. There wasn't a cloud in the sky—all day.. and I missed it.
I know. Suck it up. Be thankful I have a paycheck. And I don't work EVERYDAY of the week. Tomorrow, I'll be home at 3:00. Hopefully.
Quilt some for me----