I'm dragging this morning. Chelsey worked last night and so I was up until 10:15 pm waiting for her. When your day starts @ 4:30 am, you're pretty weary by then.
I got home from work and literally 'threw' clothes in the washer and Ransom and I took off trotting through the snow. I wear hiking boots for balance and traction on the snow and ice. They're definitely heavier than walking shoes.
This weekend I put on the dishes for Valentine's Day.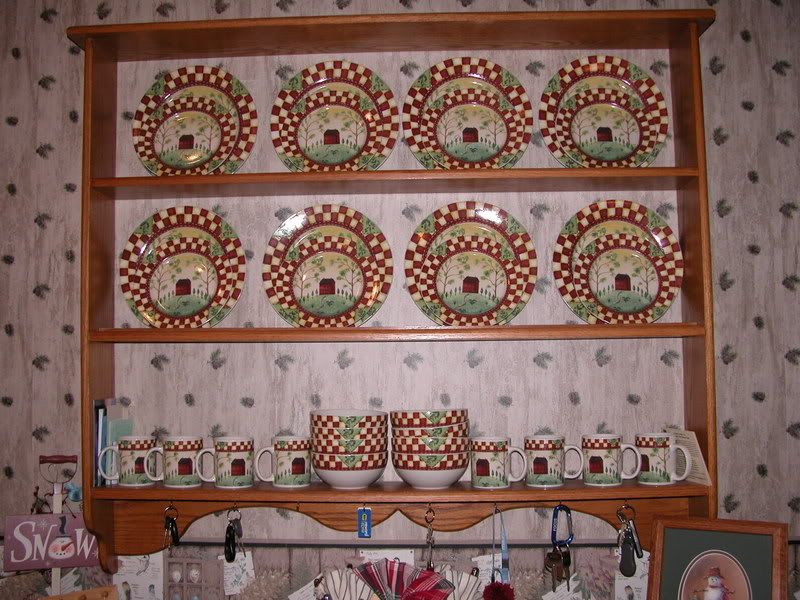 They don't have hearts or anything. They're just red. Not expensive. I loved them because I loved the Red house on them.
I think I liked them 'subliminally' because they look like fabric around the edges.
The Red coffee pot was a Christmas gift from my Mom one Christmas.
I got the fabric I ordered for my Mom's Valentine's Day runner. It's packaged so pretty--- almost too pretty to cut. Maybe, I'll have a picture for tomorrow. I was going to use the same principle I made for My MIL's quilt for my Mom's. But I thought about it. My Mother in Law has two daughters in law. I would pretty much be disappointed if she gave us the same thing. Not that there is anything wrong with Cindy; we're just different people. If I call Don's Mom at work, or if I send her a note I always sign it, 'Your Favorite Daughter-In-Law'. Presumptuous, probably. Arrogant--- Definitely. True? Most probably not. My Mother-in-Law isn't like that. It's just a joke between the two of us. She's a neat lady.
So anyway, I've got another pattern and blocks to put together for my Mom's runner. I'm making it without a 'Valentine' theme because anything could happen and it might not make it on time—so she can keep using it long after the holiday.
Gratitude:
1. Caffeine – to get me through the day.
2. The Jeep's Radio
3. Fresh Sheets