Other than a few presents to wrap, I think I'm ready…I'm enjoying this holiday season like I haven't enjoyed one in a long time. I keep trying to put my finger on exactly what the difference this Christmas is as compared to others and I can't place it. Maybe it's because we had an early Thanksgiving, giving more time for the Christmas season. Maybe work is at a comfortable pace right now. I guess it's one of those things that you 'don't ask why--- just be thankful.'
Eric made it home. One semester down --- nine to go. Chelsey is really enjoying him being home. This week our church has a live nativity scene. I'm a greeter for two nights. It's always fun and a good outreach to the community.
Here it a photo of my Christmas dishes.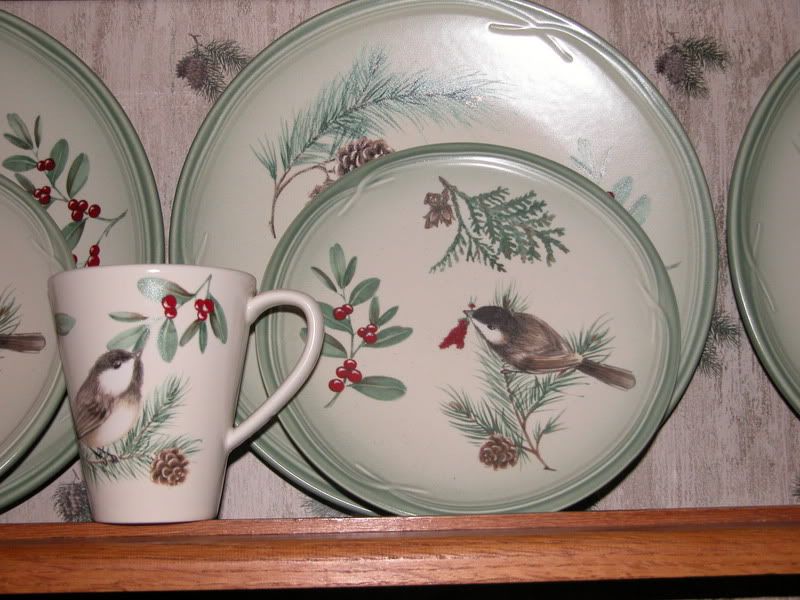 These are my favorites. They weren't expensive. They're not china. I just loved them. We eat on them throughout the holiday season. I have a real weakness for dishes. I'm not sure my marriage can withstand another set. I don't know what it is. But I have a 'dish shelf' and the dishes change with the seasons. My husband always laughs and says if there is a natural disaster everyone needs to meet at our house because I could feed a small community with the number of plates and bowls I have.
I look back and think… when did I start collecting dishes? I go back to when I was in high school and worked at an old department store "Woolco". It was back before the Wal-Mart era. I bought a Christmas crème and sugar bowl set just because I was charmed with them. I still have them.
My Mom and I have matching apple stackers.
When I was home she had hers decorated with Christmas ornaments….too cute. This weekend, I found ornaments for mine. We've put pumpkins on it, pears, and apples of every color. I think I've talked with my Mom every day since I've come home from their house. Moms are great.