Today's picture is of a table runner I. made several years ago. It was one of the nice things about having a quilt shop in your home town. We were having friends over and I decided I needed a small table runner for the buffet that had the dips and chips. You walked in told her you were in a pinch and she had all the answers---something fast and easy. I really miss that.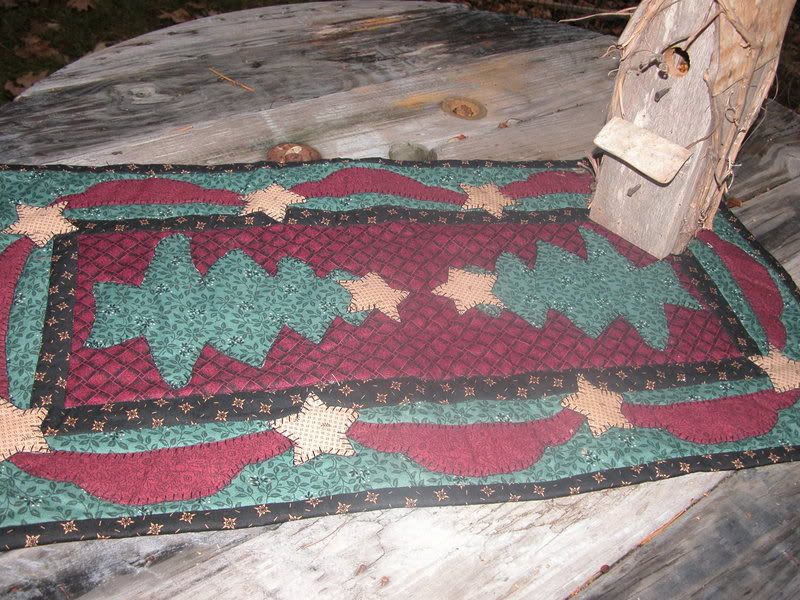 A story from Louisiana….
Preface: I believe religion is a personal thing. I'm don't want anyone feel like I'm trying to convert anyone.
I've gone to church my whole life. I've been in the little kids class, classes through the teenage years, classes for the young married couples, and even classes for parents with little ones. All approached life and God with different perspectives. My Mom insisted I bring a dress when I went home to Louisiana, because we would go to church. When I got down there, Daddy (yeah, he's still Daddy) said we would also go to Sunday school because we could visit and see more old friends.
Soooo, I go to My Mom and Dad's class--- a class for ages 70 and up. The teacher was Mr. GW—a family friend, I've known my all my life. He even reminded me he was a guest speaker in my 4th grade class. We all did the "Meet and Greet" thing, and then sat down for the lesson.
Every time I would lose my train of thought, or started to ponder something else, Mr. GW was call me by name and bring me back down to earth. I was having a deja vue of the 4th grade over and over again.
The most incredible part was seeing life's lessons spoke through the wisdom of a 78 year old man. The lesson was about Faith…believing in something you can't prove.
Mr. GW spoke, "I've had faith in 3 things in my life: My Doctors, My wife Ruby Kate (We're in the south, it's Ruby Kate), and God. But as I've gotten older I've realized my faith has changed..."
I'm thinking…'With age comes wisdom—how could your faith change? You're on the right track, why the change?"
Mr. GW says,
"As I've gotten older my faith has changed.
I have less faith in my Doctors,
More faith in God,
but my faith in Ruby Kate never waivers…."
It's true—for the past 20 years God has held his course and my faith in the doctors has been steadfast. I'm sick or the kids are sick, we go to the doctor and they give us medicine or remove the broken part (appendix, tonsils) and we're fine. But I realize, with age, there will come that time that the Doctors will not be able to heal the ailments and I'll have to keep my faith on something stronger.
And for the hopeless romantic that I am – the moment he said—"My faith in Ruby Kate never waivers..." Well, it doesn't get much better than that…. That's the good stuff…
Until tomorrow—
Live up today…
Gratitudes:
1. Someone holding the door for me at the grocery store.
2. My dishwasher.
3. The fortitude to put 2 miles on the treadmill when I was tired after I got home.