This is one of those Thimbleberries Club quilts from a few years ago.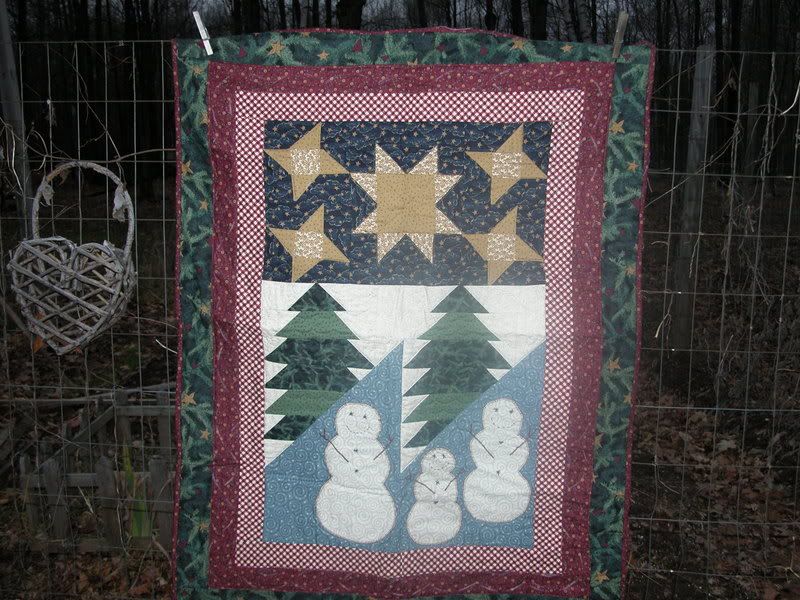 Last year I wanted a new table runner so I pulled it out, cut the size down a little and put it together. It's machine quilted. As you read, the quilt sits on the kitchen table with my Wooden Snowmen and gift bag I made.
My Mother, 74, had a reaction to some medicine she was taking about 3 weeks ago. I made up my mind that I was getting a plane ticket and going down there to check on her. She lives in Louisiana. We talk about every other day, we write, (she thinks the internet is the Anti-Christ). But until you see how your folks live day to day, you really don't know how they are doing. I flew down Dec 1 – 6. We had a wonderful visit.
She had been stressing about Christmas. We got her tree up. She has a story for every ornament. We shopped--- she even took me to a quilt shop. We did some cleaning. It was the first time I had really spent any time alone with my parents in 20 years. I'll never forget it. I've decided to do it more often. Hey--- the family survived with out me. I survived a week without a computer too. Over the next few days I'll share stories with you. You may think they are ridiculous, but I just want to write them down, because I don't want to forget this visit.
Gratitudes:
1. Safe Travel.
2. Everyone's holiday Spirit.
3. Warmer weather - 40 degrees.