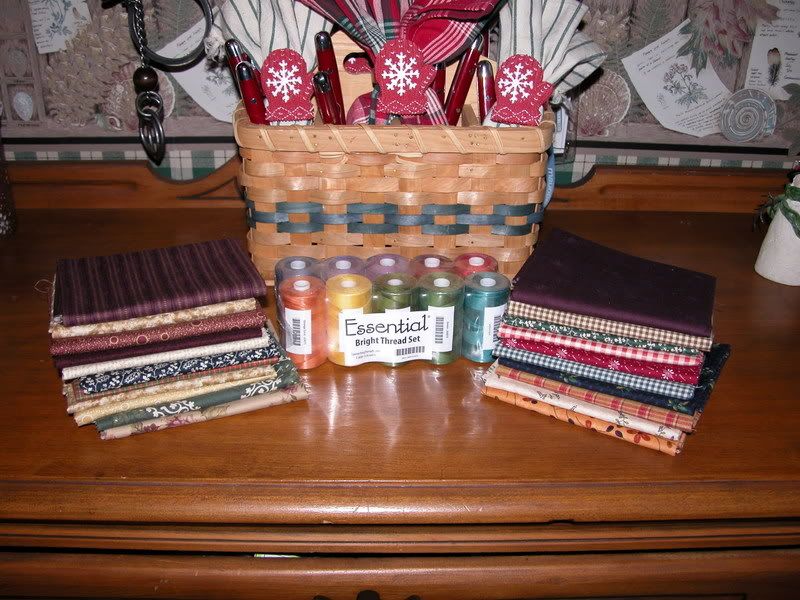 First things first…. Gifts from my Mom. When I was home in December, she took me to a quilt shop that had fat quarters on sale for a buck each. I can't wait to play with these. The thread is from Connecting Threads. Great Colors.
I had a productive day at work yesterday. There was a skeleton crew there, so I got a lot accomplished toward our inventory on January 2nd. I took off a little early. Don and the kids were still off on holidays. It was 28 degrees and we took Ransom for a two mile run. I've about decided as for as winter weather goes, that's about perfect for outside exercise because you don't have the dirty slush on the roadsides.
Eric and Chelsey are headed to Green Bay today to pick up a friend of Eric's that is spending a week with us. Jasmine is flying in from Denver. Her French class and Eric's went to France over the summer and they kind of hit it off. We're pretty excited to meet her. I baked a dessert last night. I keep asking Eric," What are you going to do for a week? What does she like to eat?" The only response I get is, "Mom—Got it covered…relax…" We'll see.
Gratitudes:
1. A Mild winter--- so far.
2. Books to read. They take you places you could never go otherwise.
3. Digital photos – Holiday pictures you can share as fast as email.