I thought I'd write a few lines before heading to work. Chelsey is working on a class project. I worked with her on that last night. I can't wait to post it after we're complete. I got another row done on my quilt. I pulled the machine out away from the wall to let the quilt flow from the back. I remembered reading that from you girls, somewhere--- thanks, it was a big help. Then I brought out the bubble gum like Libby suggested and it was a better night. I was tempted to start another row, but didn't. Limits are good. I picked up a little and went upstairs and read a book and played with Ransom.
Plans for the New Year's Eve? None--- just the way I like it. Chelsey is having a few friends over for board games. Eric will probably hang with her a while and us a while. Don and I will watch football, maybe play dominos, backgammon, and cards. Quiet….I'm not the partying kind, being at home is perfect on New Year's Eve…..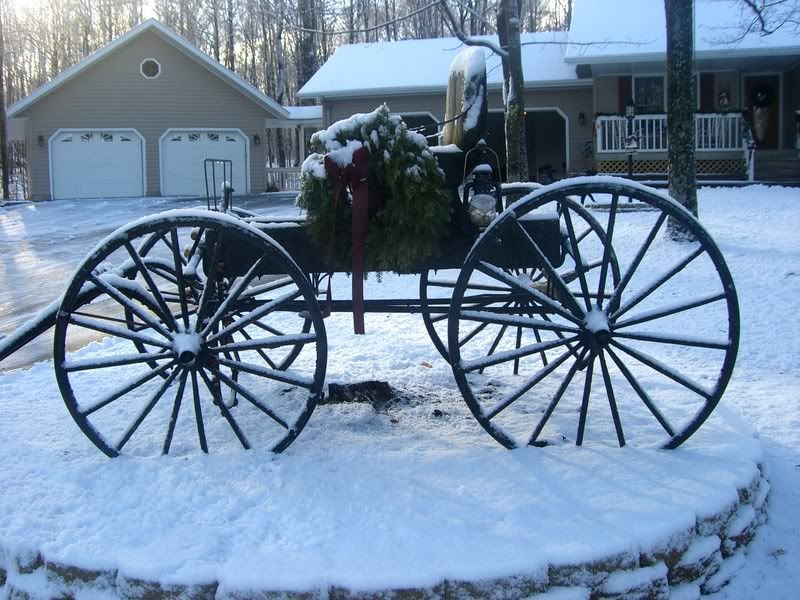 Here's the buggy out front, decorated for the season.
I'm not much for New Year's Resolutions. I typically fall short. With Work and Teenagers, life is way too unpredictable. I will try to be dedicated to exercise in some way. If I take care of myself, I'll feel like doing others things. Statistics show exercising 20 minutes a day 5 days a week lowers your risk to so many illnesses by as much as 50%. I'll take those odds. Television is the enemy. Unless I'm watching with family (we do the Survivor thing, probably American Idol & 24) it robs me of valuable time.
If I quilt something at least twice a week, I'll feel like I've done something for myself. It'll make me a better Mom if a take that time. I'm not going to make lists of quilts, because at this point it sort of overwhelms me and I get bummed that I don't accomplish things fast enough.
And then there's reading my bible every day, because I'm smart enough to know that life is way too tough to make it out there on my own.....
Gratitudes:
1. My horse Buggy
2. Cyber-friends
3. Pizza take out