I may not "tuck" Chelsey in every night, but I do go in there, make sure she's covered up, give Ransom a couple of pats and make sure the "I love you's" are the last words spoken for the night. Last Wednesday night, we were going through our routine and Chelsey said," Can you straighten my covers, I'm cold." I paid attention. I started straighten the comforters and noticed she had 3 small quilts laid out in alignment to cover her body over the sheet and comforter.
"Chels, you should have told me you needed another quilt" I go to closet.
But upon inspection, I realized that every quilt was the wrong size.
There was 3 queen-size hand quilted ones. I bundled her up for the night.
But I realized something. This wouldn't work. I'm a quilter--- with a cold daughter. This wouldn't do. I needed a quilt—quickly that could stand a minimum of 4 teenagers crashing on it at any given moment. It had to be able to withstand wrestling matches with a "Sorta" lab dog in addition to regular teenage abuse. I took out my Thimbleberries Twilight garden quilt. I took it to a friend who machine quilts. Miss Bunny said she could put a pantogram daisy pattern all over for me and stay within my budget. I felt funny about it. I had such plans for the quilt, but I knew my schedule wouldn't allow it and it was 72 x 90--- that's a lot of bulk to machine quilt myself, especially quickly.
I picked it up in two days and completed the binding.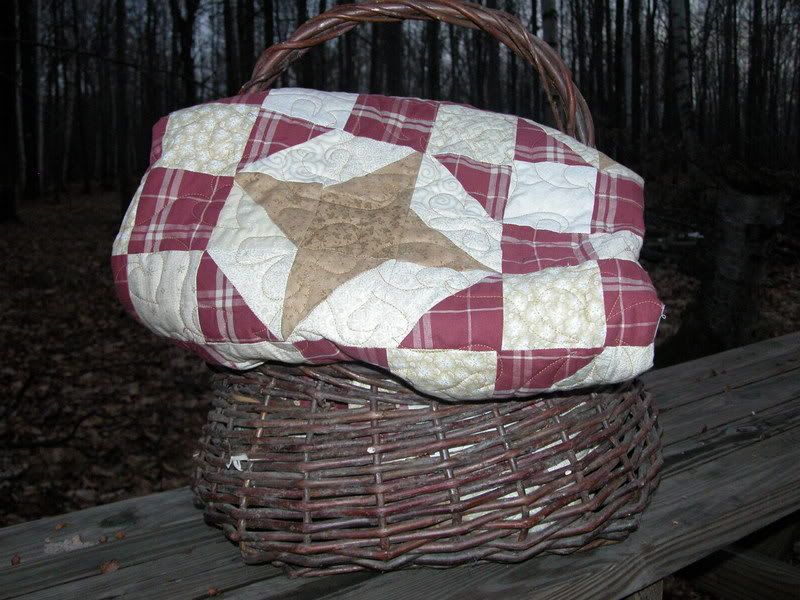 I still sort of feel like it's not my quilt but I feel good that Chelsey is sleeping, warmly, under something I made. If I had a partner in the piece, I couldn't imagine anyone more fitting than Miss Bunny. She told me I was ridiculous and that it was positively my quilt. Every piece was put together with love by me. It turned out great.
P.S. Bloglines users-- since converting to the beta version of blogger, I noticed bloglines isn't regarding my updates. You may need to go into bloglines, unsubscribe to my post and re-subscribe again and that should fix it. I miss talking with you.