Evidence…. You've seen it. I'm alive and sewing a little bit. These are the postcards I made 16 of my Sunday school kids. I mailed them yesterday. I tried to complete them last week, but it just didn't happen. I almost put them away. But I stopped and said, "No—they're worth it (the cards and the kids)." It was some Wal-Mart fabric I had picked up a couple of years ago. I tea-dyed muslin for the back. The cards are an opportunity for Mom and Dads to read to their kids. You can never tell kids you love them enough times a day.
What's been going on? The weather has been incredibly mild…. in the 50's. Ransom and I have been doing lots of walking. Don's been working some extra hours, but we've spent a lot of time together working on the house junk…cooking, and cleaning, laundry—this man irons and I hang up… is he a keeper or what?!?!. Chores aren't quite as bad if you have someone to do them with.
I had no luck with finding the fabric matching for the buggy barn quilt. I've going to have to get creative with the OOPS in not having enough fabric for the border. Maybe I can work on it tonight. I'm in defiance mode now. We'll get it worked out.
Here's one last photo.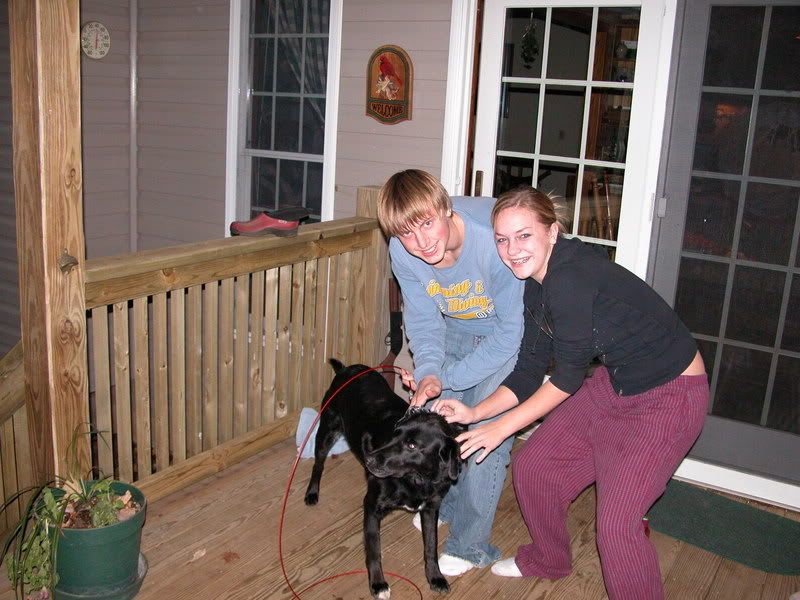 Ransom came home a few nights ago after roaming in the woods. He had something all over his head. Truthfully, it looked like an elephant sneezed on him or something. There's no way I was letting that dog in the house. So, Chelsey and a friend volunteered to clean him up. I took it as a photo op.
I have to get to work---quilt a couple of stitches for me.
Gratitudes:
1. Warm weather in November
2. Good grades for my Kids
3. Lots of Rest last night