It's Saturday evening. My daughter set up a surprise 18th birthday get together for my son. She's going to miss him when he goes off to college this fall. I'm up here typing on the lap top. They're all downstairs. It's a good feeling listening to them laugh and talk. It's going to be different when he's away this fall.
Back to quilting.
The picture here is of a tulip-star quilt. Don took me to a quilt shop in Carmel Indiana. I'm not a daring person when it comes to color, but I saw a quilt like this on display and could leave without the fabric. It's even backed in black fabric and hand-quilted in dark gray thread. I think the green just kind of jumps out at you.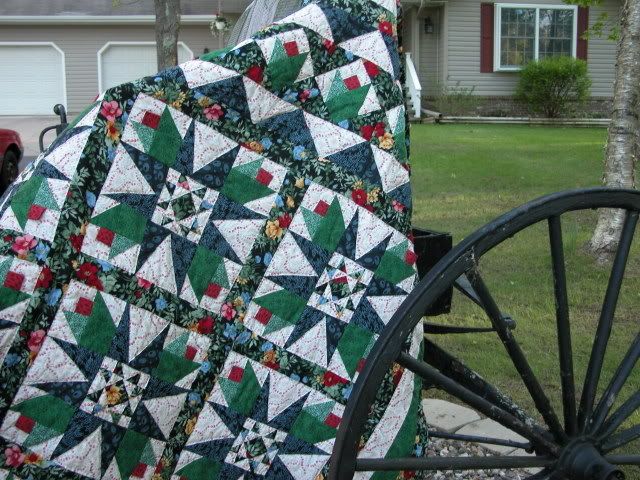 I like taking the pictures outside. Maybe it's because we've only had leaves on the tress for about 3 weeks. Everything is still new. The quilt is on what Don (my Husband) calls my fancy lawn ornament. It's a 1905 Sears and Roebuck buggy. I found it in a used car lot thirteen years ago. Don makes fun of it but it has become the marker for finding our home--- the house with the horse buggy. It's sort become a member of the family, or so it seems, because it's in all the family pictures… the 4th of July pictures with flags, the pumpkin/scarecrow pictures in the fall, and the snow covered ones at Christmas.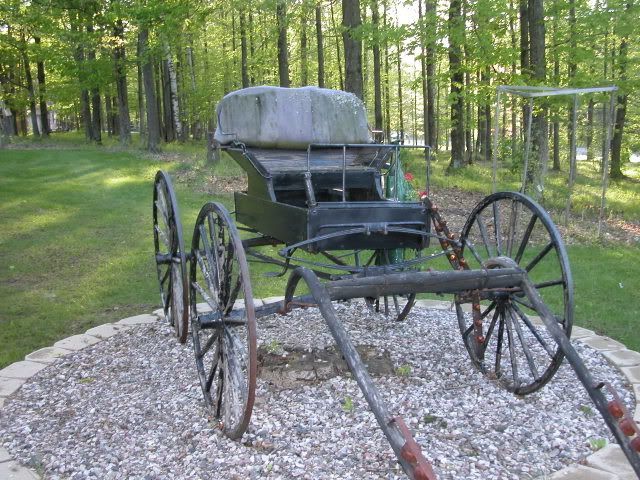 It's going to need new wheels pretty quick, Don thinks maybe the entire buggy should be replaced, but there's just something about that Sears and Roebuck tag on the back…
Until tomorrow….