It's the day before Friday --- I can make it through anything…I'm taking next week off to get ready for Eric's graduation. The weather is SUPPOSED to be gorgeous. I'll get my garden planted, closets and cabinets cleaned out (you know the ones that only get tended to when your Mother is about to visit!) and quilt.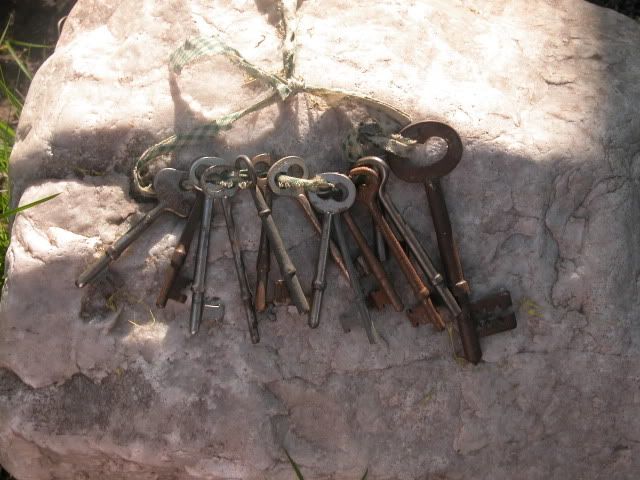 I'm posting a picture of my keys. I hold these keys as something valuable. Valuable - having great material or monetary value especially for use or exchange – No, I don't have a single lock that these keys belong to, and some show signs of rust, there value remains. In the age of Fob's (car door openers), Credit card passkeys, and Push-button coded entries- think about it- these aren't being made any more. For every key there's a story, what did it open? A chest, a gate, a room--- and what was it protecting? I'm addicted. These hang on a peg next to my kitchen sink and these are the questions I ask every time I see them. Every time I go to a second hand store, the first thing I ask is 'Do you have old keys?' I've always kept an old skeleton key with my set of car keys 'for luck'.
When Chelsey, my daughter, went to take her driving test, I said, "Here. Take this. Put it on your key ring.. Not that you need it.. But you might…" I took off the old skeleton key from my key chain and handed it to her. I figured she'd role her eyes thinking it one of those quirky 'Mom' things that I do, but she took it. The key was about an inch longer than the car keys and clearly not the kind of thing that would fit on an 'Abercrombie' kind of key ring. But she still has it. She's never given it back. Every once in a while I look at the cup hook rack where everyone in our house has his or her keys. There's my husband's key chain with his locker keys for work, my son's set of car keys with a leather band from some girl, my key ring holding house and car keys, and that grocery store 'saver' tag, and then my daughter's set - and among the car keys, the house keys, a small jewelry box key, there's still that old skeleton key--- for luck.
I better get busy---