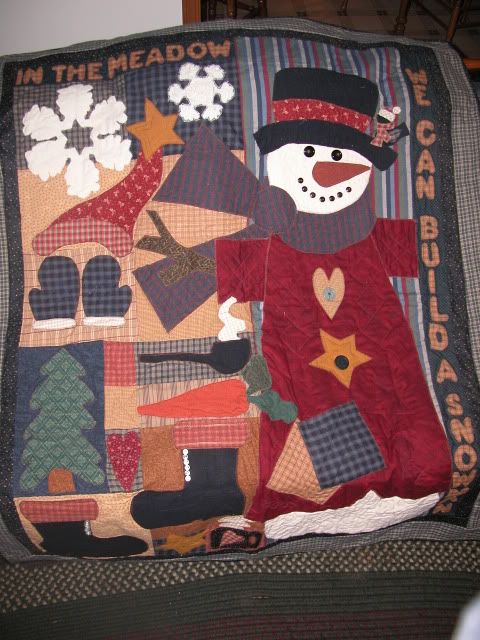 Another snowman quilt… why? It seemed fair. We had rain, hail, sleet, and snow yesterday. We had everything but sunshine. Everyone should have been at home in PJ's watching old movies. It was one of those marvelous 34 degree days in May you come to love when you live in the U.P..
Today is my son's last day of school. He'll have finals and graduation, but this is it. I'm not going to mourn the passing of time. I remember his first day of first grade, his first day of high school and now his last. I've valued every event at every stage so far. To mourn this time would be to miss out on a celebration and the chance to look forward to the next event – college. He's so ready. My daughter always talks about the perfect qualities in a guy to date. We laugh and tell her she can't marry her brother. He just rolls his eyes. I'm very blessed.
After work, I've got a quick run to the store and then home to get ready for 13 teenagers to come over for movies and board games. Sometimes I think about a quiet Friday night and I take two steps back and say, " At least I know where my kids are at and what they're doing and who they're with". I would be so disappointed if they never hung out at home.
Other than housework, the major project is the French quilt. The goal is every thing but the border hand quilted by Monday morning. The weather is supposed to be bad, so that will keep me out of the garden, so we'll keep you posted.
Better get to work – until tomorrow--