Ok--- so the conversation went something like this:
"Mom, how come you never write me letters at school?"
"Well, Baby, we talk on the cell phone everyday and you've come home a couple of weekends—I don't know. I email you."
"Sara's Mom writes her all the time… I never get mail. I bought some stationary yesterday and wrote you a letter. Call me when you get it. I just want to see if it works…"
You'd think she'd never mailed a letter or received one in her life!!!! So last night after the workout, chores, and dinner, Ransom and I whipped up two fabric postcards.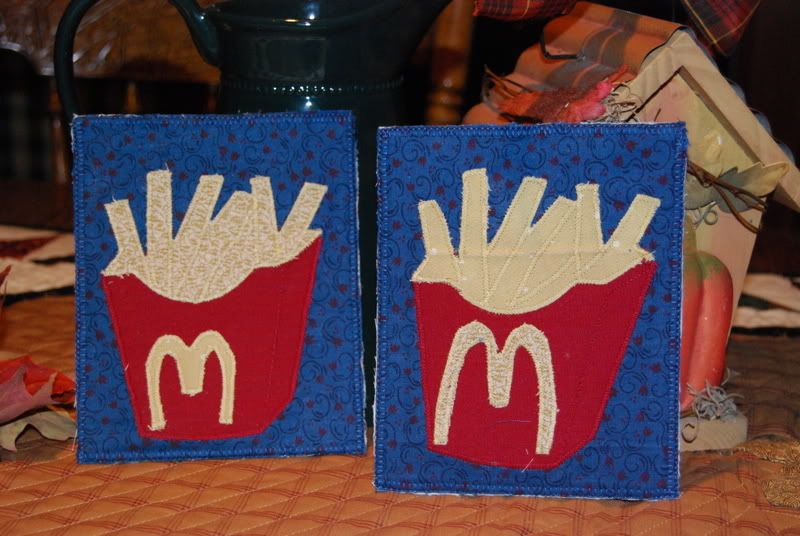 There's a story. When the kids were little and had after school activities we'd pick them up from school instead of them riding the bus home. It was too far to go back home and then double back for the classes. So we'd stop at a restaurant for French fries and a coke. Just enough to tide them over till supper time later. We'd look at school papers and discuss the latest playground fallout. Then we'd bundle back up and head off to dance lessons, or karate lessons. There were piano lessons for Eric and Chelsey's "Shania Twain" phase of guitar lessons.
Yeah, they'll call me a dork, I'm sure. But now they'll have the French fries even though I'm too far away to be there in person….
P.S. I did get her letter yesterday. I think I've read it ten times. Like my Mom always says, " When you hang up the phone it's over, but a letter you can read over and over again…"