I've been sewing--- but every time I try to take a photo of the progress there seems to be an obstacle… It's raining, the camera battery needs charging, and People drop by the house… so we'll just have to hold onto the suspense.
I've been in Wichita Kansas this week for an Aviation seminar. While the seminar for fine, there's no doubt my heart is at home. Don and Ransom were bachelors without me. And though every one of Ransom's water bowls was empty he lived and I count the adventure a success. Ransom has almost caught up on his water intake too.
I did make some purchases.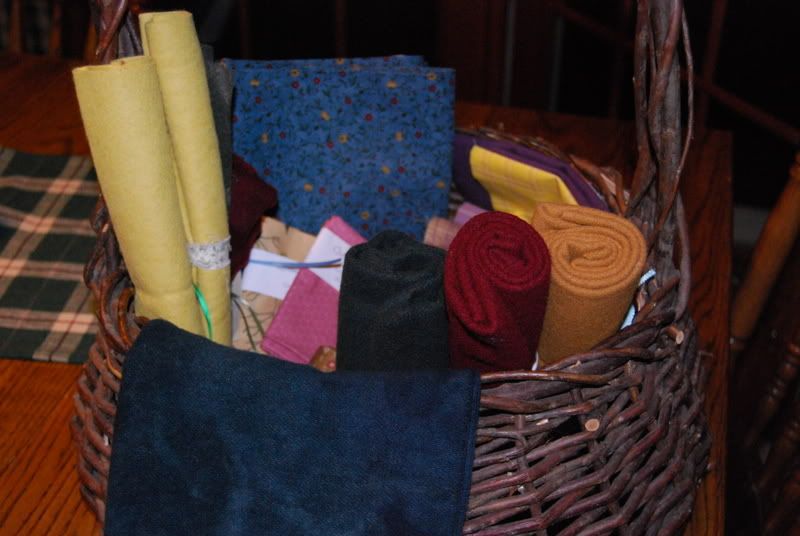 I saving up fabric for a homespun project, so that's where the yellows and purple pieces come in.
I have a couple of friends into "pink" so those were definitely stash builders. I have just been in love with the Kansas Troubles piece so I purchased 3 yards just for the sake of that.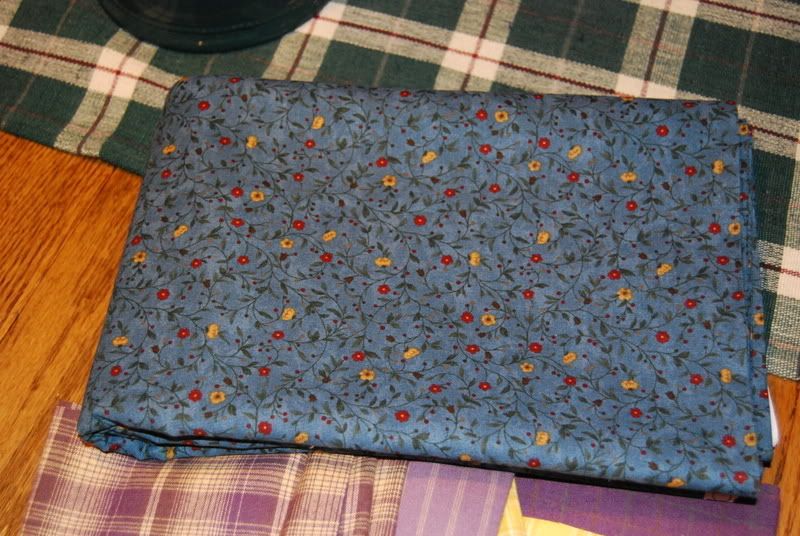 My final purchases were wool pieces for my Saltboxes in the Corner quilt. Wool is pricey… never purchased any before. I've had several pieces in kits but never purchase that kind of fabric as stand alone pieces. Should I pre-wash the pieces before appliquéing with them? I'd appreciate any advice.
It's not a tornado or a hurricane… this is the current view from the back 'covered porch.'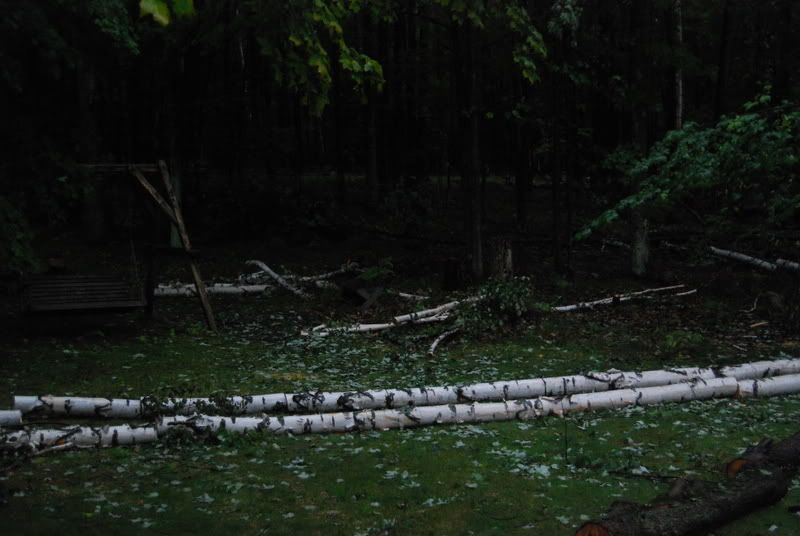 Don and I had decided on Direct TV as a treat now that the kids are fleeing the nest. But as it turns out, we have way too much forest for the high tech satellite device. So we were going to cut down 2 trees for the project. We had a forester come in and gave me serious talking to about tree safety, about how thinning out certain trees will allow others to flourish. He also talked to me about disease in certain trees and conservation. Well, he won me over, and 25 trees came down. I'm not sad… my garden will grow better. The house will be safer, trees will get bigger and truthfully after the mess is cleaned up, I don't think I'll even know their gone. It's kind of like thinning the garden out… it only hurts for a little while….Oh --- and—we decided against Direct TV… We decided we didn't want to become couch potatoes and that it probably wasn't really good for us any way… regular cable would suffice….
Maybe tomorrow I can get the quilt blocks photographed and include another post….
Fall is settling in….
From the Covered Porch……..