It's Monday --- Early…. I'm not even going to dread going to work... the weekend was awesome. Chelsey came home. Don needed something picked up in Green Bay--- so we sacrificed ourselves for some shopping endeavors. We had so much fun. There was lunch out and small purchases but tons of 'window' shopping.
The weather was crummy, but we took turns driving and it wasn't raining inside. I had all of my new kids in Sunday school yesterday and each one is cuter than the next. I'm a football junkie so Sunday afternoon the family watched the NFL games and we got Chelsey back on the road to school. This was a hard week to send her back. I guess it's because we had so much fun.
I spent Sunday evening decorating with pumpkin quilts. My mind says I don't need anymore more… but there are so many beautiful ones out there it's so hard to resist.
Purchases… Bath and Body Works is a "must" stop on the shopping trip.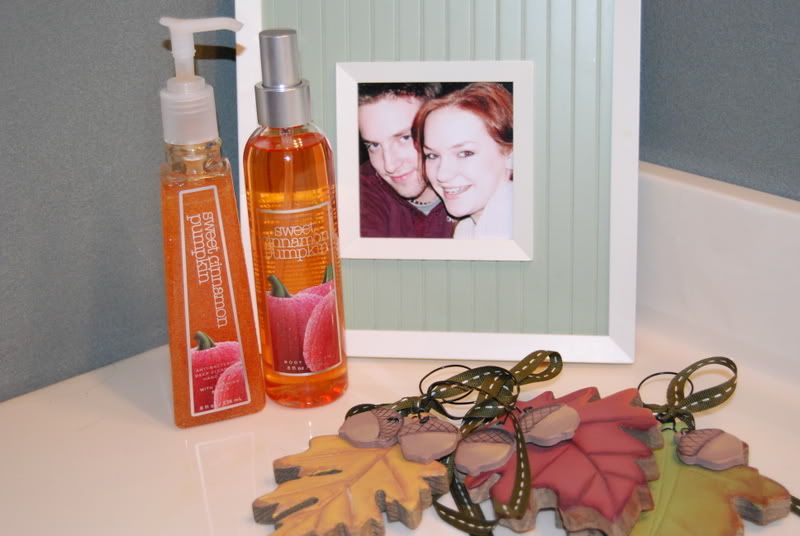 The Fall Pumpkins scents are my favorites. The wooden leaves are Dollar Tree purchases. I removed all the raffia and changed it to Grosgrain ribbon.
There is a consignment shop that is always a favorite stop in Appleton.
The painted tea-dyed towel I couldn't resist.
My last purchase was the pumpkin sign.
The photo doesn't do it justice. There are black crows sitting on top of it.
The last couple of photos are just fall corners in my house.
The quilts have all been shared in prior years, but pulling out old quilts is like visiting an old friend. Don made the quilt ladder for me for my birthday.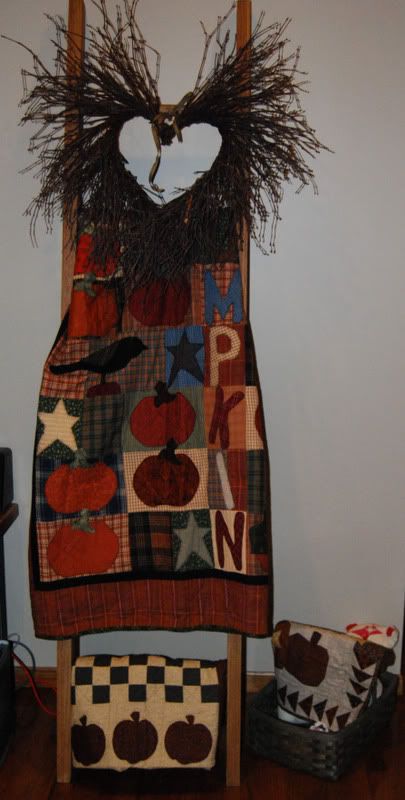 This is the first Fall I've had it to decorate. I do have my eyes open for two new projects.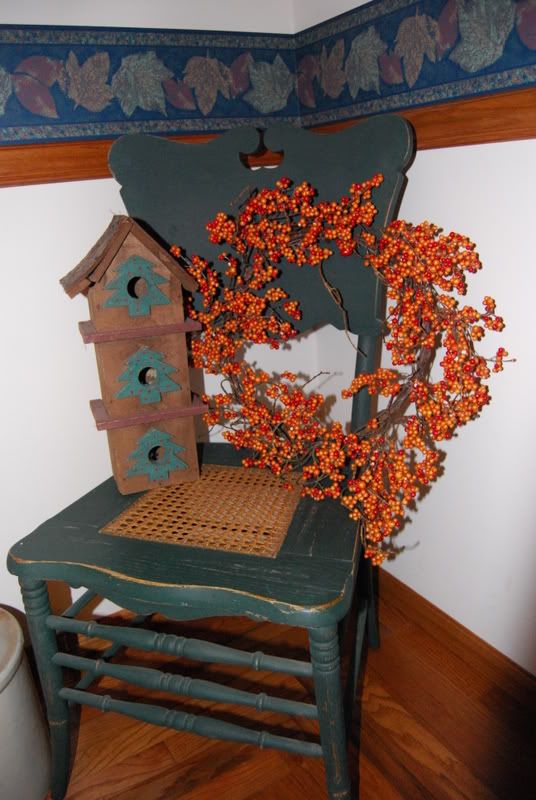 I want to paint an old chair black and one red. I love quilts thrown over old chairs. And half of the fun of getting the chair is searching for it.
I have plans for quilting tonight…. Maybe pictures tomorrow….