I had both my kids home for the weekend. Lots of cooking and eating, but lots of fun. They both made it safely back to school, so the house is a lot bigger and a lot quieter too. That's not a bad thing either. Like a always tell Chelsey--- "since the day you were born, this has been part of the plan…"
Onto quilting. The postcard was a hit with Chelsey; she even had a friend that wanted one too.
"Mom, they don't care what's on it—just send him one…"
Now Eric wasn't thrilled, "Mom, I share a mailbox with 6 other people--- don't do that again, you're a dork…" Oh well, win a few… lose a few….
Here are the cards hitting the College dorm this week.
I finished the last block of the house sampler.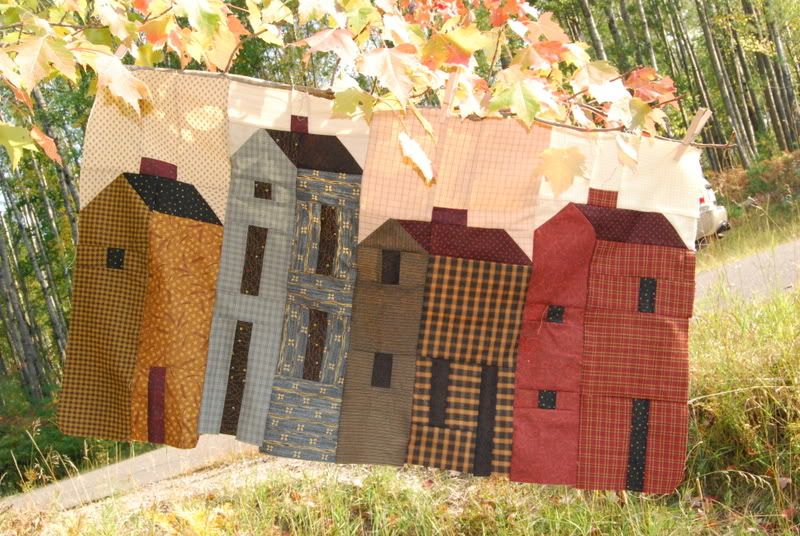 I found my self cutting a house and coming back later and sewing it up. Lots of pieces and detail in this set.
Next month we receive borders and put it all together. Back in January I had plans for a flying geese border or maybe an Ohio star pieced one, but I'm ready to get this baby in the quilting frame and call her done. I recommend it to everyone. I really enjoyed it. Buggy Barn Quilts did a nice job of putting it together….
I had to get a new cell phone – the second in a week… completely stressful. I guess I'm going to figure out how to use the puppy, clean up the quilt shop downstairs, and hit the hay---
Tomorrow's another day…..
For quilting……..