I'm about to head out to work for the morning…but I had a wonderful weekend. We've been enjoying the last of the summer temperatures. I have been nursing the garden and hoping I can make it another month without frost. I have been quilting up a storm. Here is August's block in the House Sampler block of the month. I love the chimney…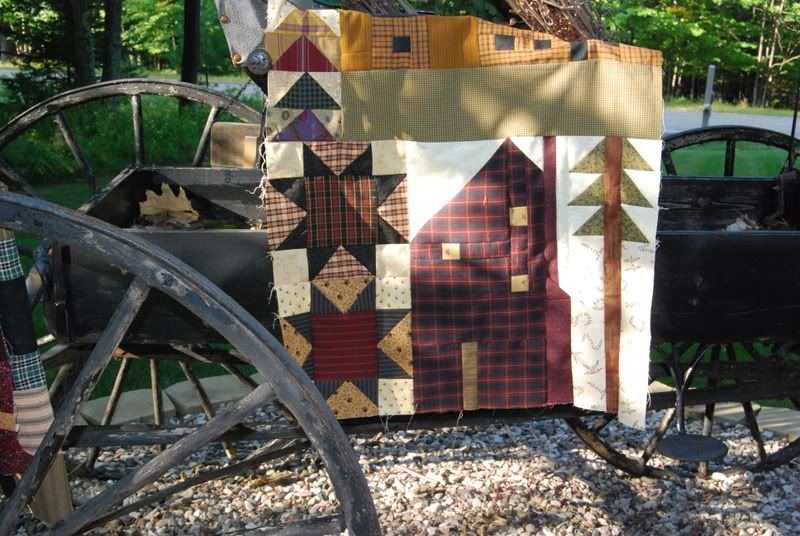 The other project I'm working on is the Saltboxes in the Corner quilt.
The pattern was a gift from
Colleen
. We had planned on working on it together, but I'm completely unreliable and she's an incredibly busy woman.
We have been changing the look of our den in the basement. My cute green jelly cupboard has now been painted black. I'm trying to "embrace" the entire "black" theme and I've wished over this quilt a long time. The middle is complete. Here is one of the corner houses.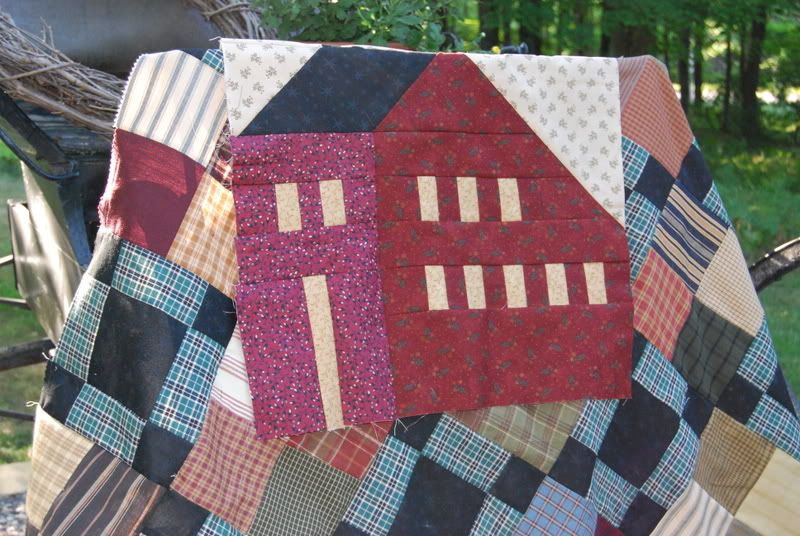 I have completed a green house also. I only have a blue and gold one left to whip up. I tea dyed muslin yesterday for the appliqué portion. I've decided to use wool. I have blue and green. With a business trip ahead, I'm hoping to find enough red and gold to complete the flowers and hearts. This quilt will be draped over the door of the cupboard I think.
Chelsey is surviving college. She came down with a fever of 102 and tonsillitis on Wednesday. Pretty much a major meltdown, I talked her through getting to a doctor on her own and getting to Wal-mart for antibiotics. Guilty--- I called Wal-mart and warned them she was coming, and asked them to package up Ny-quil, cough drops and juice. I asked for a special dose of ---"Acting like you care".
"Mom—just come and get me--- I can't do this…"
"Chels, you can. One day you'll be working in New York City and I won't be there. I know you can do this."
"No, I can't…"
"Yes, you can…."
And she did……
I was strong on the outside, but on the inside I was crumbling....And it turned into a bonding thing with her new roomate and the kids on her dorm floor really rallied behind her taking her temp and checking on her. She's going to make it.