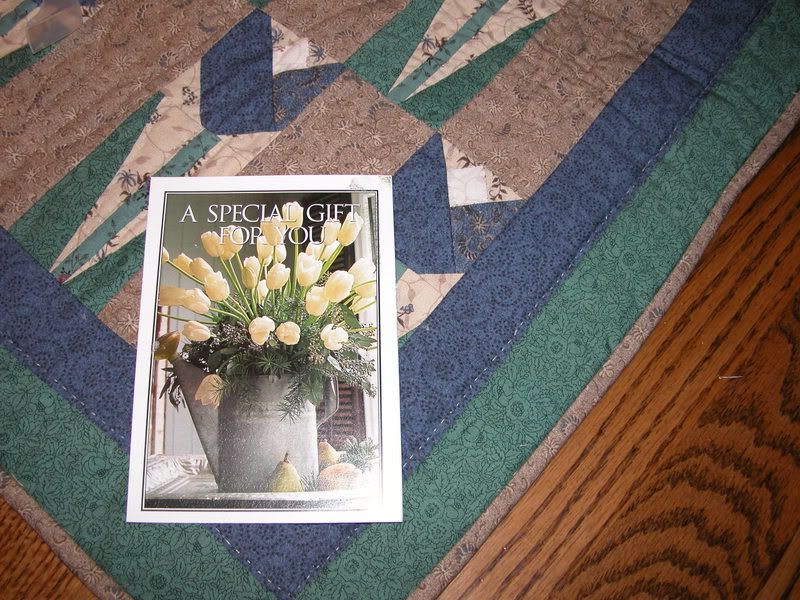 Yesterday I received a belated birthday gift from my Mom – a subscription to American Patchwork and Quilting. I feel pretty special. She's a neat lady.
I have to work on the attitude this morning. You have no idea how much I want to stay home in my sewing room. I wanted to be there last night but I completed something else. Chelsey has Prom this weekend. She's "sweet-talked" her dad into grilling with all the trimmings for 24 classmates before the dance. It's like Don says, "Mel, you just can't have people over for dinner--- you have to go all out, don't cha!?!" We've been getting things ready. A couple of Moms stepped up to the plate to help. You bet there will be pictures. I've been researching on how to put a slideshow on my journal page to spare those who aren't interested. It should be fun. The weather is supposed to cooperate. I don't have 24 of anything… so I came up with the idea… The Prom theme is 'Central Park'. So the dinner theme is "Central Park through the seasons…." We've got four tables of 6, Spring, Summer, Fall, and Winter… Each table gets a corner for decorations. We'll use my seasonal dishes---I hope it all comes together. I have spent $22.26 on decorations, which includes paper for hand made invitations and place cards, a set of artificial tulips, plastic forks for dessert, two cans of spray paint, and an extra breadbasket. The rest of the decorations are just things we've found around the house—kind of fun. The horse buggy got a touch up of paint for photographs. Don doesn't know it yet, but the artificial tree is coming back out for the winter corner….
I guess I better head out to work. My body may be there today, but my heart will be back in my sewing room—it needs to be picked up… I don't even mind doing it. I just have to get the time. Last night I rounded up all the fabric out of place, through it in a clothesbasket and brought it upstairs and folded it while watching a few moments of TV. It was 62 degrees today as I worked on decorations out on the back porch. While 62 may seem chilly to most—in the U.P.—with the sun shining---it felt like a sunny day in Florida….
Gratitudes:
Phone call from Don's Sister
Spring being just around the corner
My kids