A weekend having friends over was fun. The dinner turned out fine and the company was even better. We also saw the blue prints of the house some friends are building. It's incredibly exciting. There are so many new technologies out there. But at the end of the day, they left with their blue prints and I never loved my house any less. I guess I've finally reached an age of contentment because even though my styles aren't the "in thing" and everything could probably use a coat of paint, I don't think I would trade.
I cut out the appliqué pieces for my Primitive garden block. I also got fabric for the backing of the "Spanish Field Trip" quilt.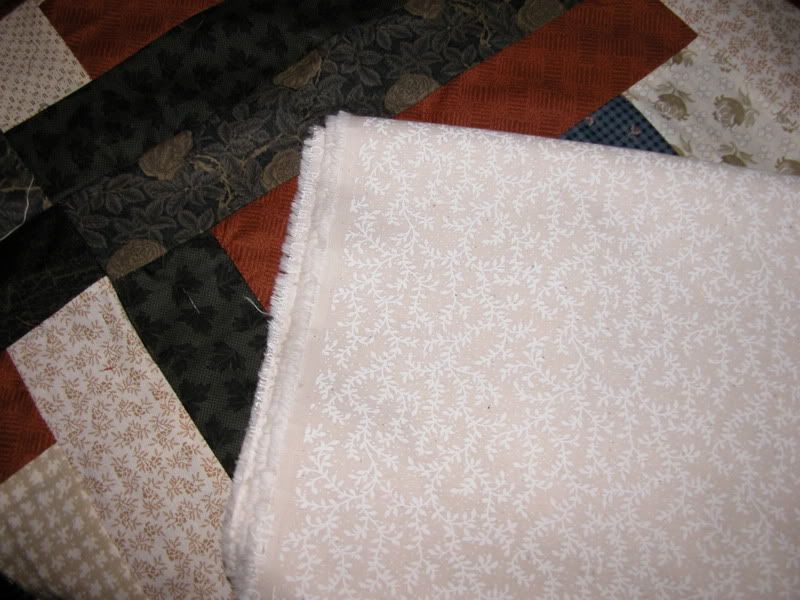 I stretched it and got it pinned and basted. It's even one third of the way machine quilted. I kicked around doing the "Quilt for an Hour" quilt this month. I definitely want to quilt for an hour a day, but I have this project already started that needs completing. When I get too many things going I get overwhelmed.
My Sunday school class had twelve kids on Sunday. We made Macaroni pictures from colored shaped macaroni to create a picture: "God Loves all Shapes and Sizes". I've completed their Easter Cards, so the slate is cleared for quilting all week.
It's been a pretty rainy weekend, but I keep telling myself the rain will help turn everything green. We have a chance of snow from tonight all the way through Sunday. Don hasn't been into exercising here lately. It's harder doing it alone. Ransom and I are still hitting the trail daily and this weekend I got another few miles in on the elliptical machine. It's just harder doing it alone, but I have to get my mind set. If I don't keep my strength up, I find myself working and sleeping and nothing else. … and that's no way to live.
Gratitudes
1. Macaroni – for SS projects and Cheese.
2. Watching Old Movies with Chelsey –"Practical Magic"
3. Flower Seeds bought over the weekend