I finished it at 9:15 pm last night.
It's for a girl I work with. Her birthday is today on Friday the 13th. I'm not superstitious, though I don't believe in tempting fate. And wouldn't it be incredible if fortune cookies were true.
Ok – back to the bag. The pattern is called Kimmie's Tote by Indygo Junction. I really can't picture her carrying the bag, I can see her hanging it on the door and filling it with flowers. Here's a snapshot of the label I sewed on the inside. The card is a fabric postcard with a red Popsicle.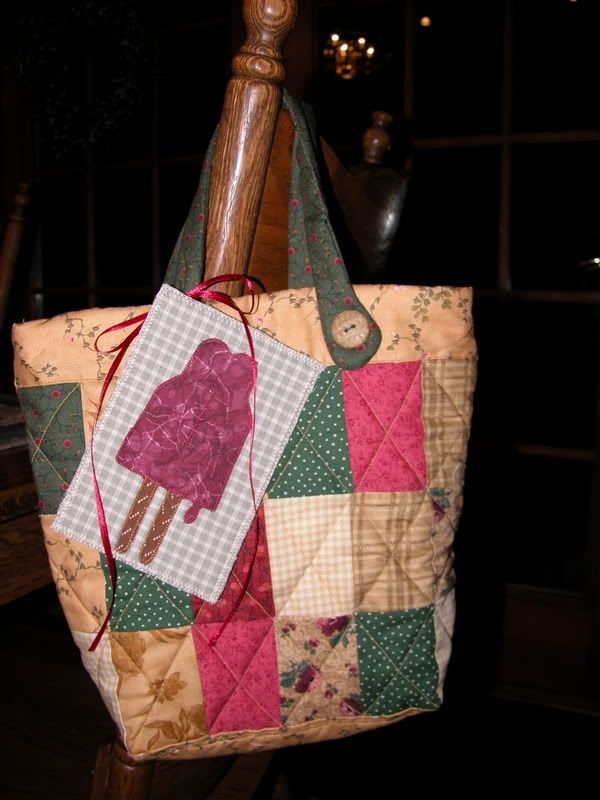 I wrote on the opposite side, "I hope today is one of those days that there's nothing that a Red Popsicle can't fix…" Remember those days.. A skinned knee, a broken toy, a rainy day.. A Popsicle cured just about everything….
Inside the bag I put 'Flair' pens--- The Brand name suits her. Oh, And Packs of Gum. We both work in the 'Guy's' world. But as women, sometimes you can get so angry tears come to your eyes when you don't want them to. Last week I went into her office, and said, " I can't do this, I'm so angry, look at these tears, how will I be taken seriously?" She opened her desk drawer and handed me a piece of gum. " I don't know," she said, "But this works for me, when you feel the tears, just chew harder…" Hey, it worked.
We've talk about stamping, scrapbook paper, and quilting, oh and ribbon (If I had planned better, I would have filled the bag with ribbon) She's got this wild ribbon thing. She's about the first person that I can be a friend with and still tell her she's wrong if I think she is. And when I'm out of line or wrong about something she pipes up. We don't dwell on work, because with confidentialities, there are tons of things we can't talk about. We don't talk on the phone. I don't see her before or after work. Both of our lives are way to wrapped up in themselves to do that…but every now and then it's really great to have a friend at work.
I hope she has a great birthday.