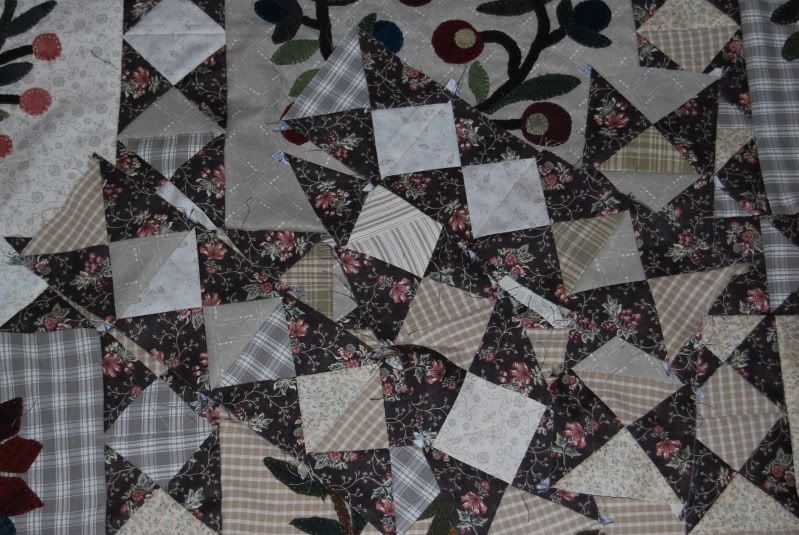 It's not Chaos-- It's my sewing. I've had the twelve blocks completed for about six months. It's a project I did with Sue and Mary--- making a quilt designed by Edyta Sitar. I've had Six months of reading directions for the sashing and borders. I have had six months of 'Googling'--- looking at how others completed the project.
Triangles totally geek me out--- but I wanted the completed piece more. I decided how I wanted it to look --- I was going to make the creme hourglass pieces match the blocks they surround. I knew I was going to have to have plenty of room to lay the project out. I realized the detail involved.
I realized I wanted it to look perfect because years from now I didn't want my great-great-grand kids looking at it saying, "Look Grams messed up here and here---She ran out of fabric here too..." Stupid, yes, I know... But the most important thing was I didn't want a big ugly quilt.
Last Friday was a rough day at work --- at the point of reaching 'the brink' I received an email that said -- "When work sucks...think of this...." and included this picture: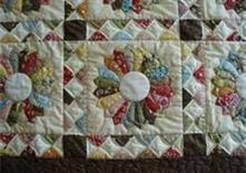 Yep-- it was just as fuzzy in the email...but it did the trick. I made it through the day at work plus I realized I was placing too much pressure on a bunch of triangles and sashing strips.
I turn the brown pieces the other way and now it does matter was order they are in... the more random the better.
It's still a real busy piece, but I didn't want it real dressy anyway, I wanted it 'huggable'... Hopefully I can get the other 6 blocks attached tonight.
The pups had me up at 3:45 am---- It's amazing the things you get done before work when you get up that early.
Housebreaking alert: We're ten days without an accident.... I think we're over the hurdle with Ripley.
The radio just announce a hard freeze alert... It's 30 degrees...and Living in the U.P., it's that time of the year.