It all started last summer.  I saw Lisa Bongean's first block of a Summer block of the week program and I was hooked.  I encourage everyone to take part in them this summer.  It made me slow down and "smell the roses" so to speak.  I would swing out on the "Covered Porch" and work on my blocks. I was either cutting them out, stitching or writing about them throughout the summer. I signed up without knowing what the quilt would look like.  With Lisa Bongean—Blind faith takes over and you know it's going to be good.
Well, the finishing kit came out and it was predictably charming—but not what I had pictured in my head.  The quilt blocks were a little pricey(but worth it). I just didn't want to spend more for the finishing kit.  I waited around to see what other quilters were doing—no luck… Weekly, I googled images for pictures of the quilt and never saw one.
I so I ordered fabric for my own game plan.  I still was hesitant to pull the trigger on the project.  A quilter had even blogged that she had seen the quilt in person--- and the finishing kit was completely worth it….Great--- gorgeous blocks and I was about to destroy them with ugly borders.  So—I went to see the quilt.
I loved it.  But finally—I was finally content that I wanted a different version.  I did however, change my game plan and I love how it turned out.
So the quilt started going together last weekend.  I pulled scraps from my stash.  Anything too bright got coffee/tea/vanilla dyed and the cut into pieces.
My family's pool table became the design board—and again things laid around for a week--- scared of ruining beautiful blocks that a lot of hard work went into….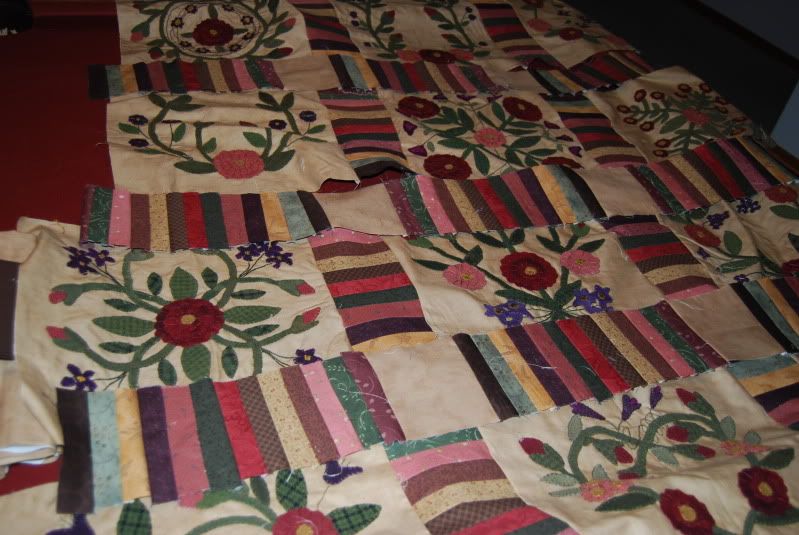 Well, I decided it doesn't need the final border--- I love it just like it is…..
It's going to have a dark brown binding….No more applique--- the blocks will stand on their on….As far as quilting patterns….I'm quilting it myself. I just going to do a small meandering stipple all over.  The strength of the quilt in my opinion is the blocks.  The minute I finish typing it's going on the frame…It's a big project…But it's going to be an awesome display for this summer….