I've never posted a photo on my blog.  It kind of 'geeked' me out….Pinterest really shot that down, posting my picture out there.  Because today's post is about my daughter and her 22nd birthday--- This is us….
A photo of us at my first ice fishing expedition two weeks ago.
This is us sledding the night before It was 9 degrees--- Sledding when you are over 30 should be considered an 'extreme sport'. All I kept thinking is, "I have to do this--- I may be too old to do it next time I have a chance!!!!" Yes—Chelsey is way too cool for a snow hat….
I finished her quilt.  I did not have binding fabric.  I considered ordering more and remembered my commitment to cut down on the ordering. I blundered through the quilt cabinet and found a leftover piece of Jo Morton fabric that works perfectly----
  I'm calling it, "In the Pink…".  It got it's name because I've quilted in words on the horizontal pink blocks of the quilt.
Smile
Have Faith
Love
Care
Have Hope
Share
Laugh
Be Kind
Believe
Be  Brave
Effort
Courage
Wisdom
Honesty
Strength
Compassion
Happy Birthday
Chelsey
These are the words doodled somewhere among the stitches of the quilt for my daughter's 22nd birthday.
I've always said the great part of quilting is making something that comforts someone and hangs around long after you're gone….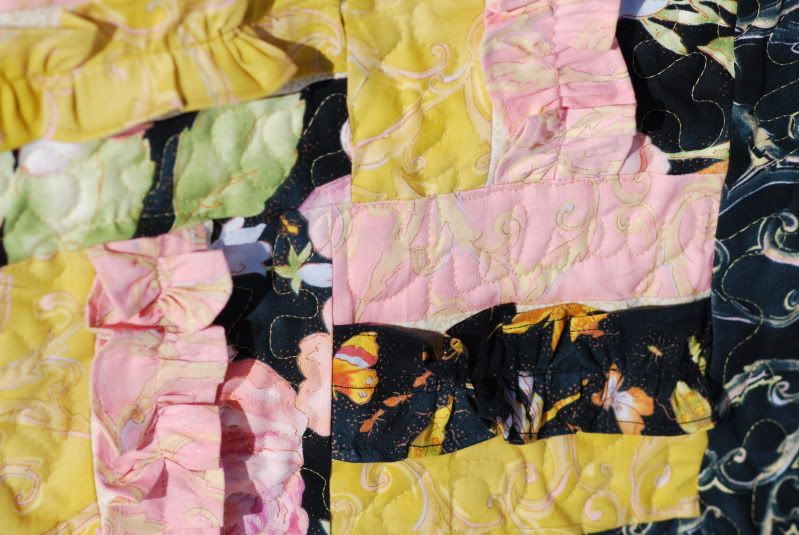 Death and dying don't really bother me any more—I'm at that point in my life and I have every intention on going to heaven for bigger and better things—I just really don't want to hurt.  I think my biggest fear is being forgotten--- I want to be remembered and leave a mark after I'm gone…..
Here's a mark for Chelsey to remember--- the words written---
"In the Pink…."
Happy Birthday Chelsey…..