I grabbed the camera and the quilt the minute there was plenty of day light to take a photo.We're supposed to get rain all day. Full of thread pieces and in need of a good ironing, I still couldn't be more pleased. It's Scrappy Stars, a Miss Rosie's quilt pattern.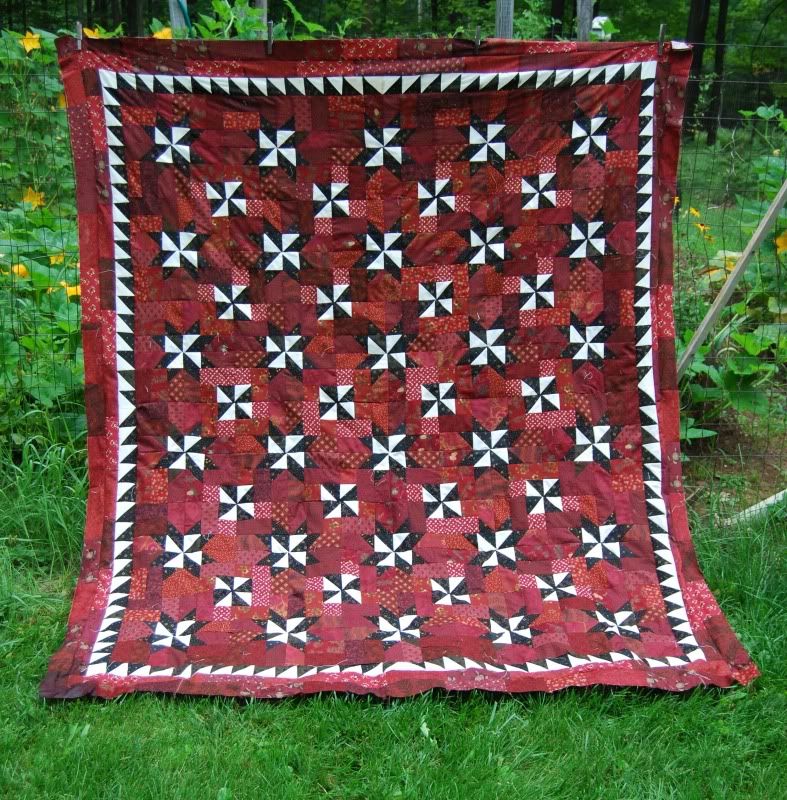 I used up about 15 years of Thimbleberries red and black fabrics. At one time we had a small quilt shop in town that specialized in those fabrics. Back in the early 90's there wasn't a lot of quality colors to pick from. We're covered in gray and white outside so much of the year that I was a real fan. I still needed more fabric so there are some Kansas Trouble pieces as well.
This wasn't a tough quilt, it's just real labor intensive. I pressed the seams open, at the advice of a couple of friends. Hopefully it will make it easier to quilt. I'm heading to Appleton tomorrow to get backing material. By the time I got to the outer red border I forgot about the pattern instructions, just sewed the scraps together and went with it.
Confession----- My grandmother did it…. My Mom did it…. Now add me to the list…. I sewed my pinkie finger. Yep--- we'll spare you the gaudy pictures, but the needle went right through. Thank goodness my machine has the auto-up feature on the needle, so I wasn't just suspended in pain. In true quilter form, I immediately protected the fabric from any dripping blood--- a bad omen for the quilt----then in true "Melanie-fashion" the tears poured. But the bone wasn't hurt, the fingernail wasn't touched. It just went clean through to the other side in the fatty part of my finger. I'll live and the tetanus vaccine is up to date. I feel pretty stupid, so I guess I'm glad I was alone when it happened.
Chelsey came home over the weekend. We raided the garden for vegetables for her to take back. We loaded all leftovers in the fridge too. She cut flowers from the garden and I lost a vase in the process. No big deal.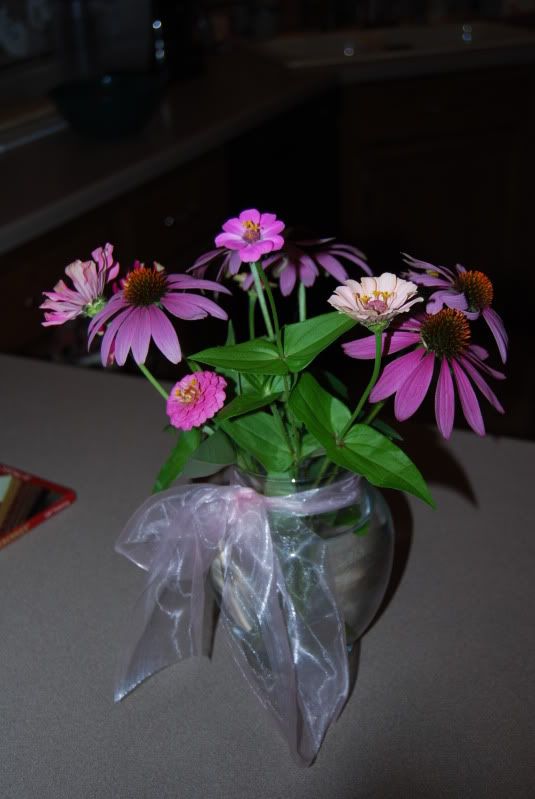 On the docket for the day--- a sewing room cleaning session and letters to my Sunday School kids.
Gratitudes:
The sound of crickets in the evening
Popcorn
Emails of Encouragement