Lazy days of summer… I have more free time than I'm use to. But I'm staying busy. Being a list maker, I have to account for my day. I never want a day wasted. My Garden Shoes: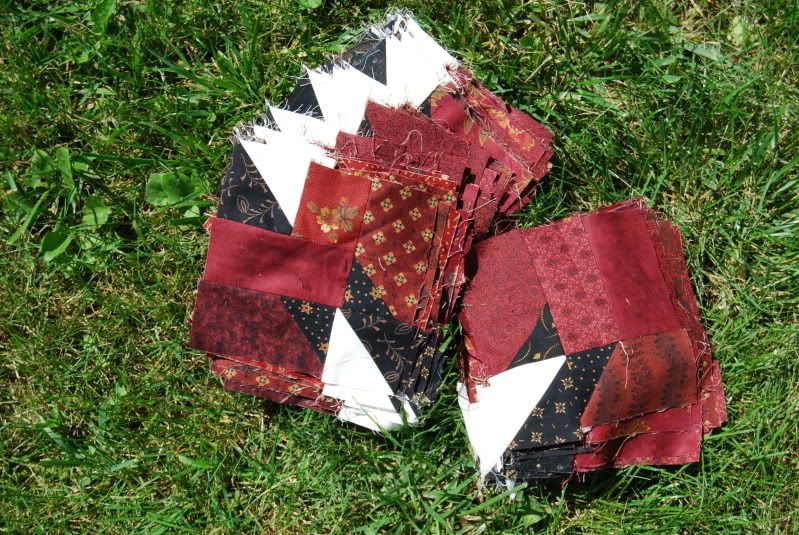 Yesterday I pulled a project out of my quilt cabinet. Resurrecting it from last year, I'm completing it for Eric. I have 120 blocks completely finished. While the blocks separately don't give a picture, placed together you get an idea where the Miss Rosie's Scrappy Stars Quilt is growing to. It has not one but two pieced borders after the blocks are placed together.
I think about why it got placed in the back of the cabinet. I got it cut out and the half square triangles made. But there's many steps and things needed to be kept in order at a time when my life seemed to really be in disarray.
Hope fully next post you'll see the progress. I have a chance to go to a quilt shop next week, but on a tight budget now---- I can really justify backings on sale.
Post over…. The remaining lines are reminders to myself that I'm not Wasting my time even though there is not a dollar figure associated with the minutes of my day. Sounds stupid, but when you've worked outside the home for years your mind can play tricks on you.
1. I'm studying on autism. There a child at church that We don't want to fall through the cracks. I've never had the time to do the research to reach out a special needs kid and now I do.
2. Friends with surgery recovery….I've had a chance to visit weekly and have never really invested in relationships until now.
3. When you have the time to economize you really can.
4. With all the fresh produce coming in----I have the time and energy to cook and enjoy it like never before.
5. Focus on my bible---Reminds me of the good things.
6. Next week I can get back to exercising.