January is flying by. Kids are back in school. Life is slowing down a little. We survived the dreadful cold with temperatures down to 17 below zero. A customer told me last week—"Hey, at –40 degrees Fahrenheit and –40 degrees Celsius the temperatures are the same…" "Great," I thought, "Something to look forward to…"
Yesterday morning it was sunny and 10 degrees above zero. It is AMAZING how warm that can feel after the temps we had last week. I guess it just goes to show you--- it's all about perspective…..
When the temps are above zero we been snowshoeing. Here's Don and my feet on the trail.
We've got a 3-mile trek set up. Ransom loves it, but by the end of it--- he's following our footsteps.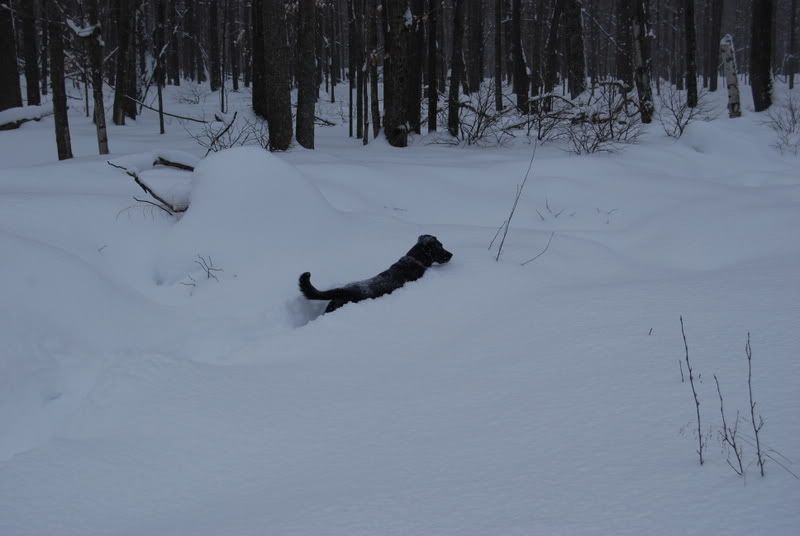 It's quite an endeavor for him to heave the piles of snow. Yes—I'm a little envious of those gearing up for spring. I know I've got a good three months of winter ahead--- So I'm forced to find the good things in my own back yard.
My Sunday school kids and I made feeders for the birds last Sunday attached with paper heart bible verses.
We filled the oranges with homemade suet. I'd like to take credit for the clever idea, but I found it
here
.
Quilting. I've got the binding finished on a couple of quilts that I've talked about forever. A couple of weeks ago Chelsey was weeding out some old things and pulled out a quilt top she had pieced at about 12.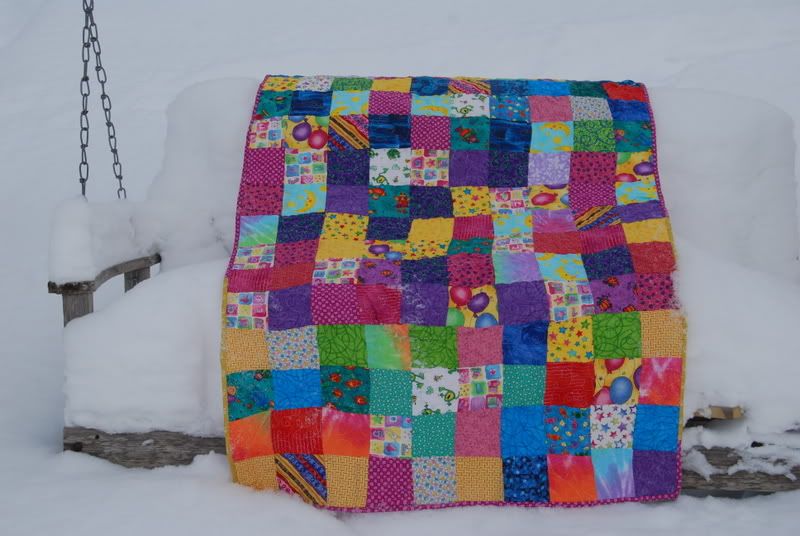 I can remember always going fabric shopping with her. She'd always ask to pick out a fat quarter or two. She'd pick the brightest, funniest pieces.
Lots of times they had frogs.
As a kid, she'd catch them by the dozen during summers in the U.P. I told her to leave it on my machine and I'd quilt it for her. It's going in the mail today. She asked--- "What'll I do with it?" My response—"I don't know, it's big enough for a lap quilt. It's full of memories. It'll keep you from getting homesick. You'll have a piece of home with you…" I can't wait till she gets it.
Other quilting. I finished my Seasons Block of the month from the
Country Loft
. I attached the borders.
It's going to be the next to hit the quilting frame. I tried for an outdoor shot, but the snow is just too deep, I kept falling. Its colors fit the fireplace anyway. I recommend their BOM programs. Their packaging and patterns are great. It's like getting a present every month. I've signed up for their program again this year.
While I haven't posted often this month, I have been reading. I think quilters are being wise to the economy and not purchasing quite as much and being creative with what they have. There are tons of free BOM program on-line thanks to the graciousness of quilt designers everywhere.