I can make through Monday because I had an outstanding weekend. Tons – of sewing ---literally. I have photos for all week. We knocked out the housework. It was snowing—what else is new?!?!? But I made a phone call to a quilt shop 50 miles north and they said it was Clear and sunny. So I made a decision and decided to hit the road. The main highways were clear and the snowflakes were the size of quarters. The trees had a fresh "flocking" so it was a beautiful drive.
I remember as a kid, my folks in Louisiana would hang the Christmas tree from the clothesline with clothespins and spray canned snow all over the tree. We thought it was beautiful. Well, we get the real thing up here.
Back to the shopping trip. I ventured to Country Gardens and Quilts in Ishpeming. It was a small shop, but they were so nice. They help me pick out a wide backing and batting for my quilt. I've never have used wide backing fabric—what a treat… no seams. I'll share a photo tomorrow.
But—here's the finished quilt.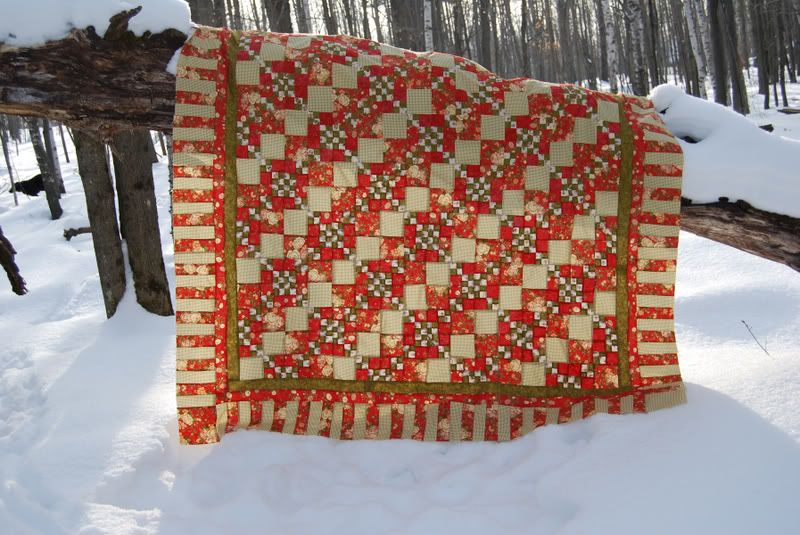 Hopefully, some time this week; I can get it loaded on my grace frame. In the photo, there are extra threads, and it needs another pressing, but I was so thrill, I grabbed Ransom and the Camera and took off into the snow. The snow didn't hurt the quilt. It's so cold and dry, that it brushes off like baby powder.
Don is working late all week, which will give me more free time, but time will probably get used up on keeping up the housework. He's a big help, and when he works late, I try to pick up the slack.
Gratitudes:
Tons of sewing time
Encouragement from Don to make the trip
Warmer temps—today will be the first day I haven't worn long underwear and stockings under my clothes in a week.
.