I'm about to head to work, but want to type a quick post. I got Chelsey's flight schedule mixed up, so she flew out yesterday. I worked a couple of hours yesterday morning and we hit the road. We did the typical teenage pit stop—--the Mall.
After we got her to the airport and watched her go through the metal detectors I told Eric we need to stay in Green Bay until she took off, but there was no point in staying at the airport.
So the next stop was Ben Franklin's, which had big signs about going out of business. I was really disappointed, but went in and checked things out. Everything was 30% off, and so I did a little fabric maintenance….
Their yardage pieces were on sale, but I didn't purchase any.
Her plane was delayed on the ground for maintenance issues, so I told Eric we needed to stay in Green Bay—He says—"Mom, Why?!? What difference is it going to make?" So we headed to a quilt shop….Yes, he read a book in the car, but I went window-shopping. Lots of pretty quilts, lots of wishing was done… Then we headed home.
A great day I think….
Here are zinnias from my garden.
Here is a photo of labels and fabric squares that came in the mail and just the right moment from
Juliann
…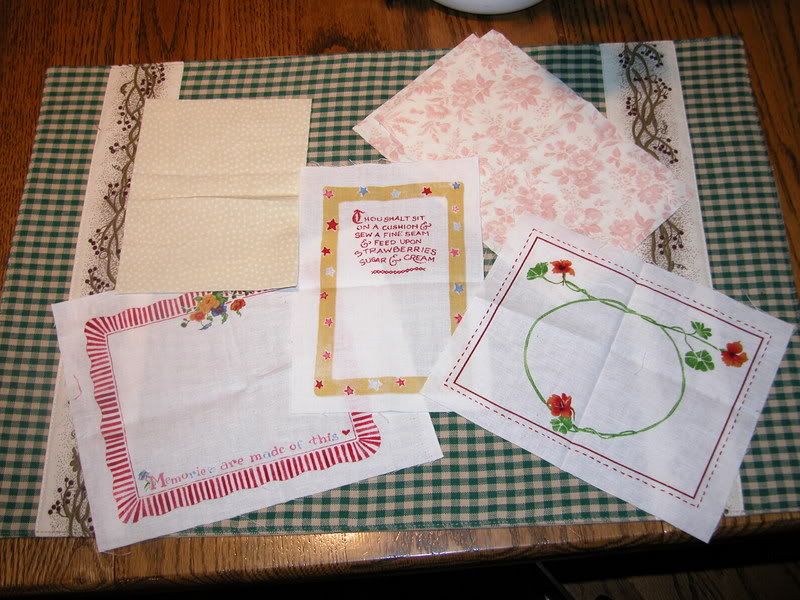 It's amazing how 7 pieces of fabric, no bigger that an index card can cheer up in a split second ..….Maybe it's not the fabric…. Maybe it's the Quilter behind the fabric….
Gratitudes:
Chelsey's safety in traveling
Don's safety in a maintenance outage at work
Shrimp for supper tonight