Our flag --- here is the view on Independence Day from our front porch.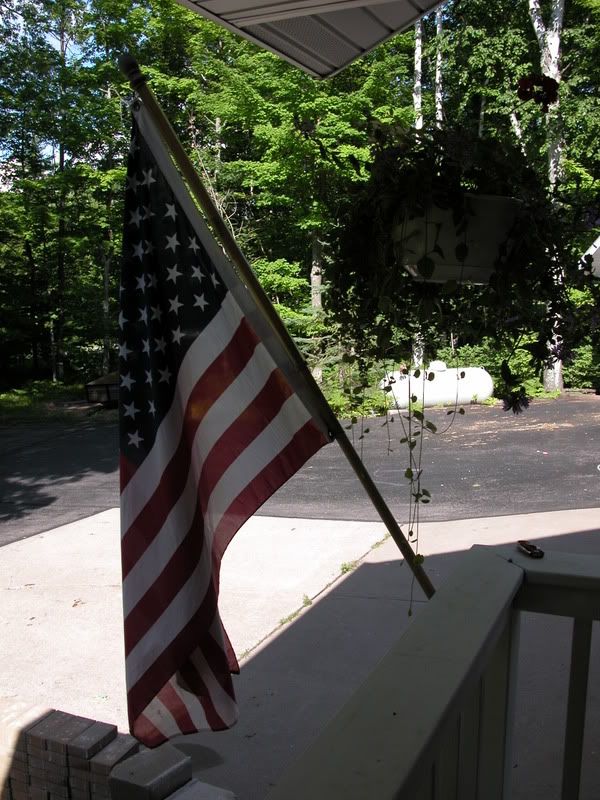 I took a picture because I wanted to remember the view. We had a relaxing day for the holiday. There was a small thunderstorm about 2:00 pm, but it just made us take a nap until the sun came back out….
Both kids were in the hometown parade. The parade covered a five mile path. It was complete with cotton candy vendors and school bands. At 17, Chelsey was in the senior Cheerleader group. Eric works for a well drilling company so he got roped into walking along their float in the parade passing out water bottles with the company logo. While this isn't a great picture, I wanted to keep it.
I realize both of my kids are pretty much "grown" and this will be the last "Independence Day" parade for them… We've sat through them in strollers, through the 'Candy-catching' years and their last year of being "In" the parade…. While Eric wasn't at all thrilled about being in the parade, he admitted afterward it was a blast--- on a hot day you're real popular—and after toting cases of bottles of water for five miles, he doesn't have to lift weights tonight….
Chelsey is about to go to a national FCCLA convention. She'll represent Michigan. Each person is given a pack of state pins – 5 in a package—to trade with other kids. You can buy additional pins but their really expensive.
So the kids make their own representing their state. Chelsey has been working on hers. " Mom, when I think of Michigan--- I think of snow and the Mitten state…" Here are some of her Pins. They were buttons that her father took the fastener off the back.—Of course the plaid paper that we laminated is my favorite part.
Answers to quilt questions. The 'White' stuff on the back of my BOM block is a thin interfacing that I used to stabilize the fabric. The homespun fabric is so flimsy that the blocks were difficult to appliqué and the stitching wasn't coming out crisp…
What kind of appliqué? Keep in mind, I've never had a quilting class, and we were taught NOT to take sewing class in school. I trace the patterns on freezer paper and then iron the fabric down around the edges. I pull the freezer paper out press the edges back down and stitch into place. The Primitive garden came in a cotton set or a woolen set. I almost wished I had gotten the wool set but I had so little experience. I hand appliquéd it because I don't want the edges frayed, I want the quilt to last for ages….
Gratitudes—
Parades
Red white and blue flags
Corn on the cob