OK – so last night I'm writing my block for my 365 day Challenge Quilt, Eric sits down beside me. He talking with his dad about the day—it's about 7:30 at night. All of the sudden, he stops mid-sentence, "Hey - this is pretty cool… what is this?"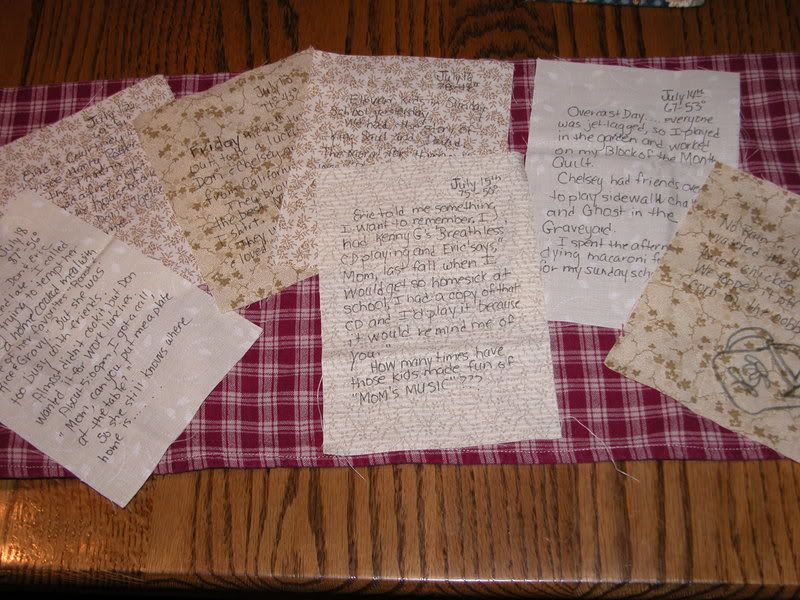 A Quilt Moment…..I went on to explain about how there's a block for each day, I'm recording the temperatures, Prices of movie tickets, gas, a loaf of bread, milk.--Talking about everyday things like movies, Ransom, and conversations I have with family. I told him it started out as a project marking Chelsey's Senior year, but Chelsey has turned out to be pretty much "anti family" this summer, so it's a document of my life for a year.
"This is pretty neat, think about what it'll mean looking back in a few years…"
"Eric – there's hope for you yet---"
"Mom—I'm really into to the quilting thing…. If it weren't for the sewing part…"
What?!?!?!I think he meant he appreciates them, just wouldn't ever make one… we'll go with that thought.
Chelsey anti-family? I think those are pretty tough words. She's just busy with her life, working, cheerleading practice, and friends. Don says make a list of expectations—chores around the house—and as long as they're done, her free time is hers. "Mel, you can't ground her into hanging out with you… Mel, you need to find a new friend".
At first, when she started this I was devastated, but we've kind of gotten a new routine established. Don points out for me to remember when a couple of Chelsey's girlfriends Moms went through the same thing when their daughters hung out at our house all the time. I felt so lucky that they were at my house. Well, now I'm paying the Piper.
Again—whether I'm trying to convince someone else or maybe myself—You can't force the issue, but I won't stop living either….dwelling on it won't change anything, and I'm not losing a summer over it. Don said, " God is preparing us for her to go to college…" Chelsey is in the world... the world doesn't revolve around Chelsey...
Me—I want the old Chelsey back…