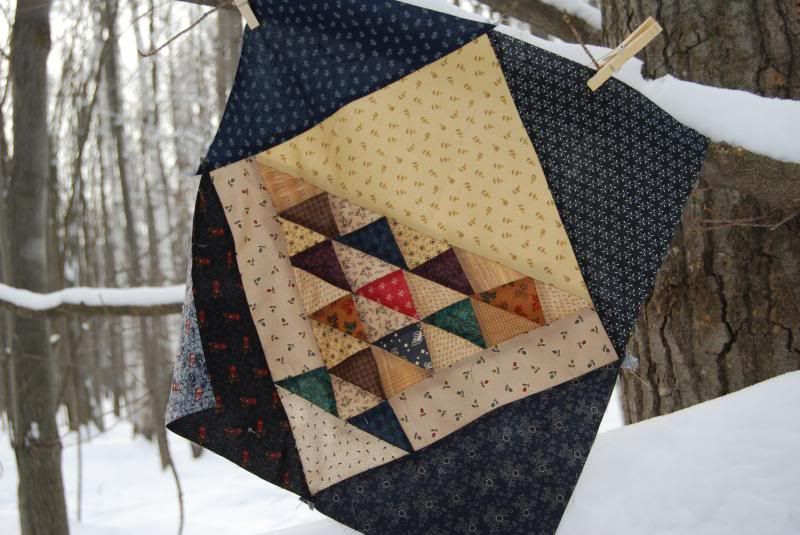 I'm incredibly proud of my triangles. They were sewn together one at time--the same way they were cut out...one at a time. The project didn't start out successfully. I have never had any luck sewing triangles together without a shortcut or extra fabric. But I wanted the quilt blocks worse so I'd attempted once more.
I worked really hard at getting the triangles to simply line up evenly. I was completely impressed with myself when I got it accomplished. It wasn't easy. For every three seams I sewed, I had to un-sew one. I say un-sew because there was a time I was a ripper--- You know what I'm talking about. You 're angry because the seam didn't turn out like you want and you grab the pieces and 'Yank' them apart. If you're lucky-- the fabric doesn't tear.
Over and over again I said --"The seam ripper is my friend....the seam ripper is my friend.."
I continued to work.The triangle rows eventually became what I call "a test block". I had even cut extra triangles for just that purpose. When I sewed the rows together --it looked like this..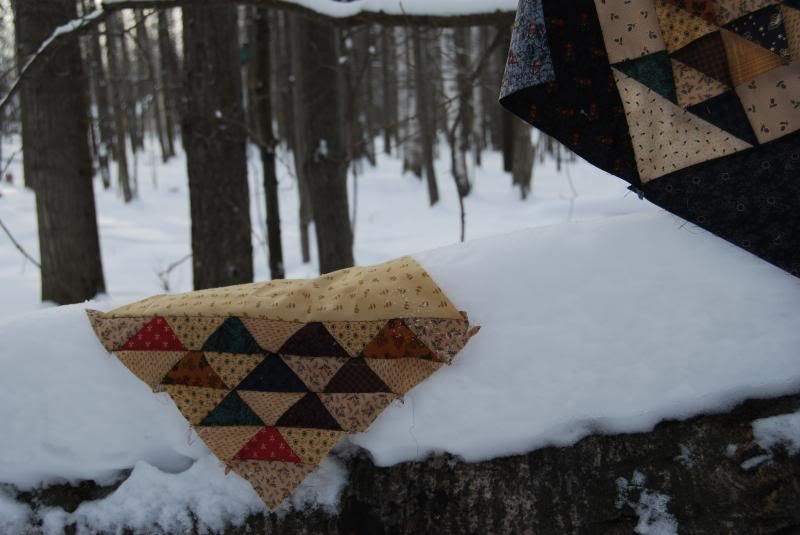 At first I said 'Good enough...' then I looked at it more closely--It was pitiful...
It wasn't even decent enough to call it a "humility" block... You know like the Amish put in quilts to keep them humble. A confession: I've been known to be a fit thrower. I get so angry at the wasted time that I've even been a 'fit pitcher" hurling quilt blocks across the room because they are a patchwork mess.
I didn't do that this time. I really want a Lynda Hall quilt....I layed the wonky block on the floor in front of my workout machine and as I cranked out miles I studied the block. The rows looked perfect until they were sewn together. Then it clicked.
Protect the seam allowances... that is what I wasn't doing. I gave it another shot. Over and aver again I repeated... Protect your seam allowances...Protect your seam allowances. It worked.
My goal was 2 blocks a month-- in 6 months I will have a quilt. Well, I figured it out and have 4 blocks completed---plus the wonky one--That I just might frame to remind myself that fits don't make quilts -- not giving up does...