An awesome week has ended... work went great...thanks for all the well wishes. What I learned this week-- I learned to laugh at myself. It's O.K. not to be perfect and I knew I never was. Second I learned if you get on a fit -- just say you're sorry and laugh about it......
Onto the quilt stuff---
I finished the binding-- and I'm so proud of this piece....I guess I'm like some tv commercial-- I did it myself.
Let's talk about it.
There are bats:
And spiderwebs...
Our Witches have Ruffles:
By the time I get home from work the lighting isn't good--- so I snuck out at lunch and shot these pictues-- the brush casts a shadow-- but if you look... there's a great pumpkin...(Remember Charlie Brown!!!)
Sailing among the stars-- this witch has a heart and pockets....
Everything I read about machine quilting says:Practice, practice. Even from the top of the quilt to the bottom, I feel my confidence growing.... On the bottom border-- if you look close you'll see "Boo!" in the threads.
We had warm days before. We've had Beautiful Fall days before. But to have a 79 degrees Fall day among the colors is a rare treat...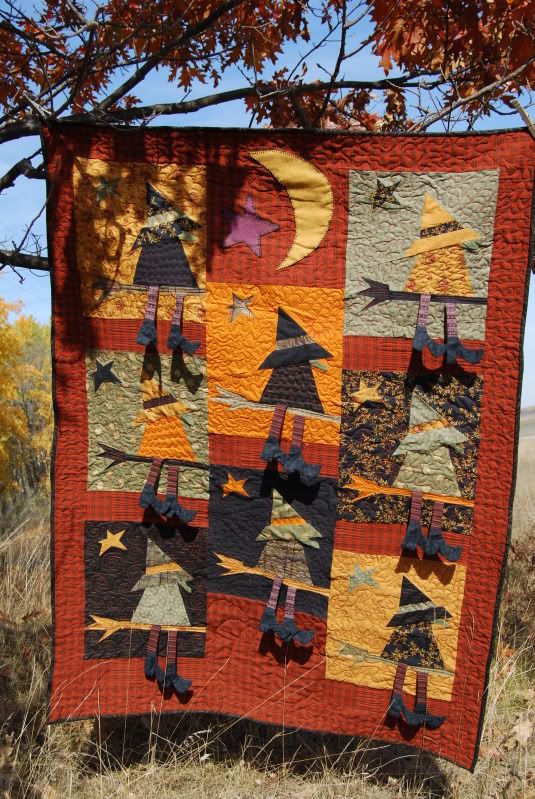 I took Bruno out one last time before bed last night. It was anything from quiet with the leaves falling... But even in the dark-- I wasn't scared.. it was almost comforting...
Well, I'm off to hang my quilt. Remember if I was a witch---I'd use my powers for good....most of the time...
Have a great weekend...