I've been stressing because I wanted to post about quilting--- and there just hasn't been a whole lot of that out there. But I realize you have to keep life in prospective and I've been doing tons of good stuff and the fabric isn't going anywhere. All good things in time.
Quilting first off. Don has taken off for a few days to deal with spring home maintenance. The kids brought home college junk and now he has declared part of the basement a fire hazard so he started going through it. This is what he found in a box, one of my Grandmother's quilts.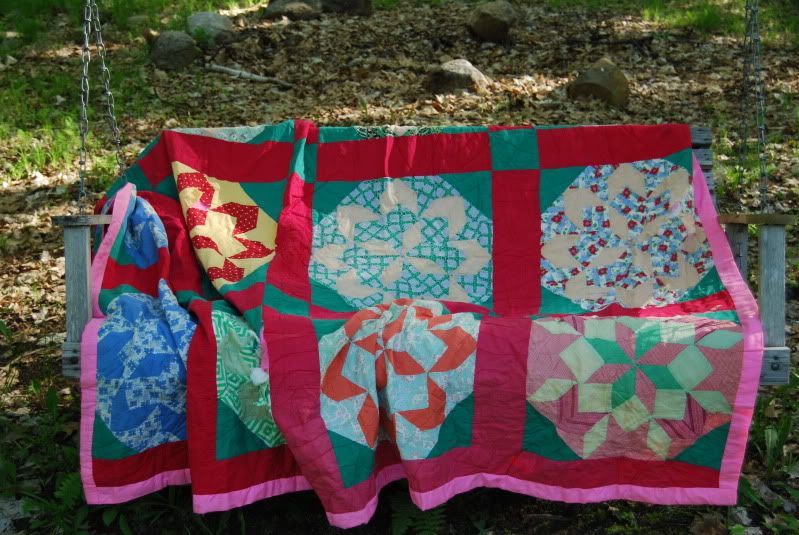 Chelsey's response: "Mom—she picks out better fabrics than you!!!" It needs a little repair, but I'm going to work on it tonight.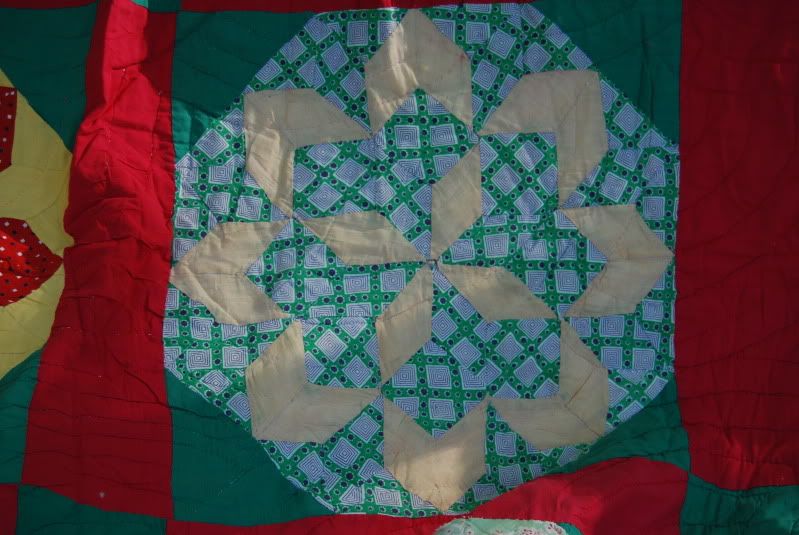 It's hand pieced and hand quilted.
We have a new addition to our family.
Chelsey has gotten a pup for her apartment at school. He's part terrier and part Chiawawa. His name is Bruno because Chelsey says he needs a strong name because he's a little guy. He's 4 months old. Ransom is adapting better than we thought. Here's a photo of them together.
Our robins have flown the nest—Sunday Night. I think they just outgrew the nest and fell out so they had no choice but to fly.
Here is the last photo of them together all 4 of them.
Saturday morning Ransom and Bruno found this in the woods. They were barking and Chelsey came to see. There was a Doe behind the garage. Usually they are just as scared of people and run away if you get near. Chels grabbed the pup thinking he's was going to get stepped on and when she turned her back the doe head-butted her. T he dogs were screaming and she was screaming and I came running out to the porch. First thought—the doe was sick or something. Then I saw something like a cat at her feet. She was protecting her fawn.
We called a DNR friend later in the afternoon because the fawn remained behind the garage and the doe left it. He told us that fawns are born with no scent and since they are too fragile at birth to travel the does keep them in tall grass and come back often to nurse.
Sure enough for 48 hours that fawn lay alone with Mom coming back and forth to check on it. We kept the dogs away.. But by Sunday evening he was gone. We've never seen anything that close to home.
There are miracles in your life every day--- you just have to find them…