In my last post I spoke of taking a few minutes the past few days to 'fluff' my sewing treasures. Here are my threads--- I collection literally spanning years. But you never know when you are going to need that "aqua thread".
I threw out several spools that I felt were 'dry-rotten'. But I just couldn't part with the aqua.
I rounded up my embroidery thread. I was an avid cross-stitcher about 25 years ago. I can remember girls in the dorm room at college all cross-stitched. DMC Numbers???? I was lucky to have the plain threads--- I never had threads to match the color charts. When I got married and actual was able to purchase "the good stuff"--- what a luxury…. When the local department store would run threads 5 for $1.00, I would grab a handful, trying to get one of every color. When quilting took over the thread kind of took a backseat. Chelsey went through her "bracelet " phase and she pulled out her favorite colors. With the recent tasks of embroidery to quilted pieces, I pulled out my DMC threads and organized them again.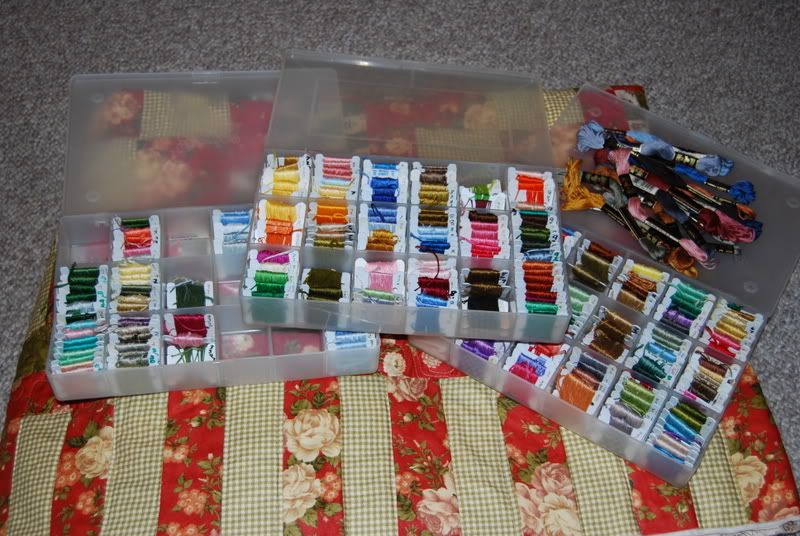 I'm half way through the project. As dorky as it sounds--- Gosh, I'm having fun. What is it about thread and needle that just charm me--- Maybe the colors, maybe the collection. I'm still trying to figure it out.
I'm wishing for the Perle Cotton 8 balls of floss (incredibly fun to stitch with), but I'm using this as an exercise in contentment--- at least until the next holiday……
I stopped by the gas station to fill up the jeep after work… a hefty jolt back into reality… that already "paid for" thread is looking p-r-e-t-t-y good after that pit stop.
We have a local unpainted furniture factory and Tuesday I stopped by the outlet store looking for a 'steal of a deal' for organization. I was thinking of a lingerie chest with a bunch of tiny drawers to hold things. Lots of wishing going on, but that's about it.
Some days I wonder what is would be like to have a sunny sewing studio---Painted yellow in my mind—complete with a huge window with plaid curtains. Then I laugh and think I'm pretty lucky to have my cozy corner of our basement, not having to put away my sewing machine every time I use it….which is almost every day….
Counting my blessings--