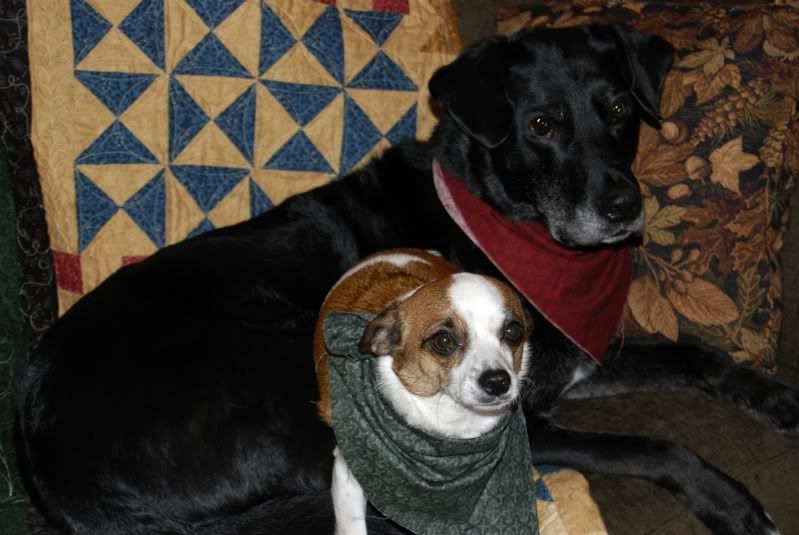 Ransom and Bruno posing for the Christmas card photo opp. We almost lost Bruno this fall. I look at this photo and think-- wow, he might not have been in this photo. Bruno is the pup Chelsey brought home. She was going through alot-- our whole family was and it was a "coping" thing for her-- for all of us. We nicknamed him "therapy" because he truly is just that. We laugh and say-- She could have brought home a baby-- it was just a pup...life goes on.
I was getting ready to go to my third class. I brought my suitcase up and Bruno tucked his tail and went and sat in his box. Ransom and he were going to the kennel-- doggie camp we call it. Ransom loves it so I know it's a good place. Bruno just doesn't like change. I called Chelsey and told her that her pup was spoiled just like she was. I laughed and continued packing.
Chelsey said, " No Mom, something is wrong -- I just know it. I'm coming home and I'll taking them to the kennel."
"Suit yourself. I have to go to class. Don's out of town. You can't have pups in your apartment."
I finished packing and headed to church.
When I got home, Chels was there. laughing--- saying , "Mom, maybe he is a little spoiled." We had lunch and I headed to Madison.
Two hours into the trip, Chelsey called, Hysterical.." Mom, there's something wrong with Bruno you have to come home. Bruno is crying when he has to poop..."
Great -- a constipated Chiwawa/terrier.
"Chelsey-- call the vet. It's Sunday. You'll have to leave an emergency message and they will call you back.You can do this."
"Mom, I hate you right now."
She called the vet. They thought she was as ridiculous as me, but agreed to meet her at the office.
They examined him and realized he had swallowed a thread and needle and it had gotten lodged in his rectum. Yep....They apologized to Chelsey for labelling her as overprotective and removed it and gave him antibiotics and paid meds. He could have died. It could have punctured his insides. She took Ransom to the kennel and smuggled Bruno to her apartment for 3 days until I got home.
I felt horrible. But honestly, I probably would not have reacted as quickly as she did.
Lessons for quilters: Count your needles - wow...
I had been doing the cellphone thing letting Don know what was going on.
"Mel, she knows not to spend 2000 dollars on the pup. I mean, we love Bruno and all, but there are limits, you know."
"Don, don't go there right now. Let me deal with it. It's not the time for that right now."
After everyone's blood pressure went down. I quietly asked Chelsey about the bill. I had told her to put it on the credit card. She said it was $262.00.
I decided texting it to Don was the best way to ease the "ouch" of the bill.
His response texted back to me:
" H e ' s c o m p l e t e l y w o r t h i t. . . "
I smiled.