When you get up and 4 a.m. and don't go to work until 7 a.m.--- it's AMAZING the stuff you can get done. Only problem is I'll probably be hungry for lunch at 9 a.m..
Don left for work early, so the pups and I got up for a quick cinnamon toast breakfast—dog food for them—and machine quilted for an hour before work this morning. I love doing it. If I get five or six bobbins threaded I can got to town. It's just getting down there, getting the music turned on and getting the machine purring.
I'm motivated to get this piece off the frame as I have a baby shower the 15th and want to give a baby quilt. A friend sent a gift certificate to The Fat Quarter Shop and I ordered this book.
It's been in my lap every night when I watch television and I've toted it to work every day. The quilts are beautiful and I love the different fabric choices and sizes. It's a great read for anyone. It's full of personality and thoughts from the designer. No layer cakes or charm packs needed. You can make your own from your stash.
Dorky Parent Moment – You want your kids to do right. A Mother goes through life hoping they are teaching the good from the bad and that kids are making the right choices. I even resort to subliminal teaching. By every faucet in our house I have books with scriptures, clichés, and famous quotes teaching right from wrong. I always justified it as a two-minute opportunity to program the kids while they brush their teeth or wash their hands…. Yeah I'm a dork…I have one set with verses and quilt sayings… Here's tomorrows post.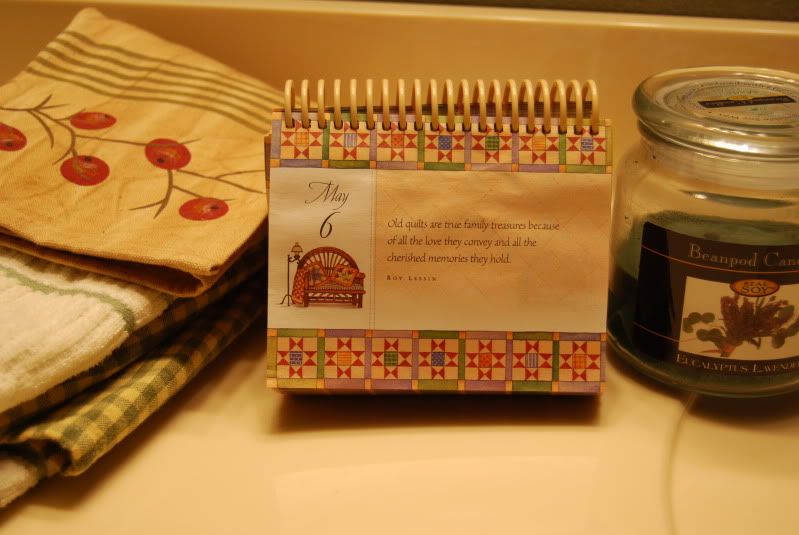 "Old quilts are true family treasures because of all the love they convey
and all the treasured memories they hold..." Roy Lessin
I like the thought of that……