Happy Mother's Day a little late– . Both my kids are came home yesterday—weather prermitted it… we were expecting 3 to 5 inches of heavy wet snow and got about 2 1/2 inches of the heavy white stuff. I knew there was a reason I hadn't planted anything yet. We had a Southern home cooked meal, cooked as a family-- fried chicken, corn on the cob, green beans, french fries and pecan pie. No dates... no friends....just Don, the kids and I. Sounds selfish..but it was really nice.
I'm blessed to have my Mom still with me. Though she's 1200 miles away, we chat almost daily. When they used to travel to visit, I was always nervous for them to see my family or my home. My folks never judged. But she was always, in my mind, the world's best mom – a tough notch to reach. I realize now—maybe not then—that I'm the judging one, not her. She sewed for me, taught me to sew, took me to Dance lessons, piano practice and church. She cried with me over boyfriend breakups and covered for me when I cut school—and tore me up later….. She's a wonderful lady.
I have a baby shower to attend next saturday. So I have been working on a baby quilt from the schnibbles book. I've had almost nine months to make this piece and I'm waiting to the last minute to get it together-- literally. I can rationalize anything, but I should have worked on it sooner. I'm more of a traditional girl, but the family is going with peacock murals and teal painted ceilings..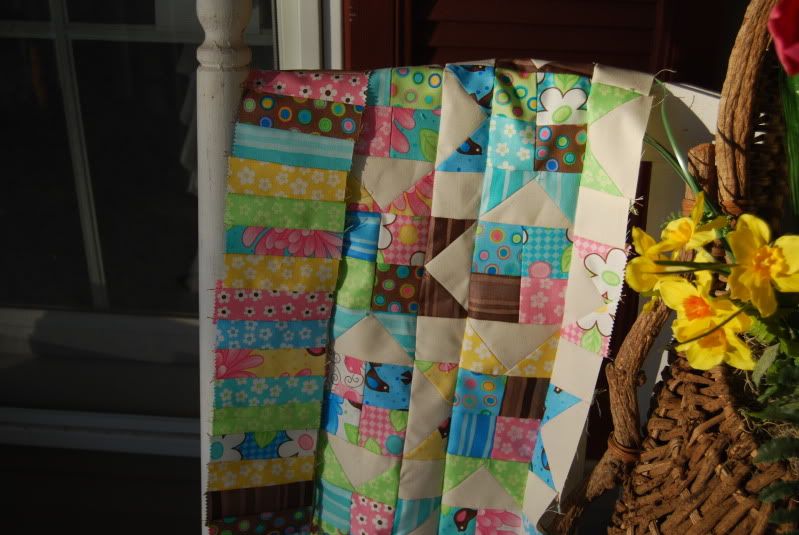 I picked out the bright Moda Line called Birdie. the jury is still out on whether I like it our not. We'll keep you posted.
I had a date with cleaning out the jeep. It's still got the "Winter Blues" but after yesterday ready for spring.
There's nothing like sunshine at 6 am to get your morning started right.
Hope everyone had a Happy Mother's day . Thanks for being a parent through the rocky times. It's easy to parent when things are rosey. You earn your stripes as a mother when you stick out the rough times. I hope every one was Queen for day.