It's Labor Day --- A long weekend was appreciated. Our leaves are starting to turn. Here are the maple leaves from the front porch.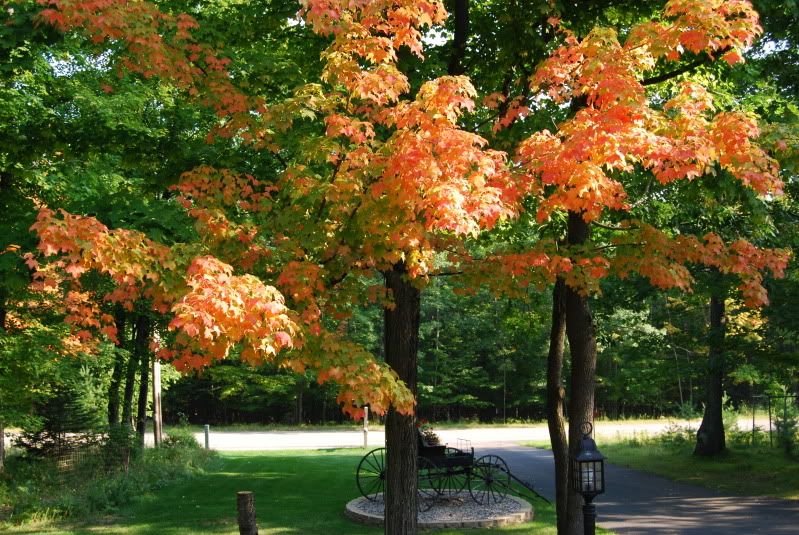 A fluorescent orange…. It seems like the trees change every year… which ones change color first, their shades of yellow and orange.
I'm grilling pork ribs for Chelsey and friend who came home yesterday. I've never done them before… always had Don to do it, so this should be interesting.
The pumpkins are beginning to turn orange. These are Baby Bear pumpkins.
I give them regular pep talks about growing to their full potential and getting the color game going.
All twenty blocks for my Harvest Home quilt are complete.
The wind get blowing leaves on the blocks--- so I decided they were meant to be there... I have to square them up and attach the borders. The inner borders will be Muslin. The outer borders, I'm thinking, will be six-inch in width and will be a selection of the Blackbird Designs Harvest Home fabric line. It just depends on what I can get. I'm saving up for fabric.
A long weekend – I made it that full week back to work. I definitely don't have as much free time in the evenings. My Sunday school class got all new bulletin boards for Fall. We now have a "Pumpkin Patch" of Bible verses.
I'm definitely tired of being angry and sad over the entire job loss thing for Don. It's wasted energy and I don't want to look back and say I missed out on life being angry over something I have no control over.
Things happen for a reason….Life goes on.