Every quilt starts with a vision….. at least for me it does. My famous line is that " I read more about quilting than I actually get to accomplish." Well, my Harvest home quilt started with this vision. It's a four year old picture torn out of a
Sundance Catalog
.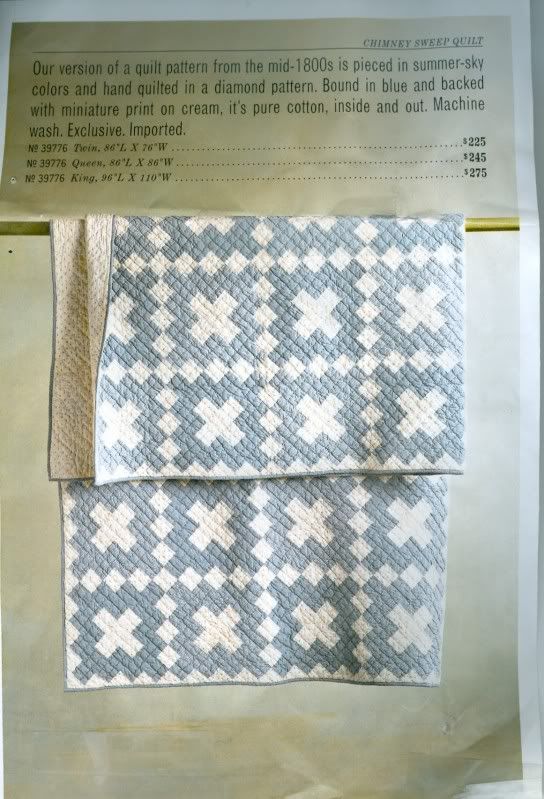 I must have stared at this clipping for hours. I had it taped to the wall in front of my desk. The quilt looked "labor intensive" to say the least to me. Short of cutting out the individual squares ---I never could figure out the pattern to make the assembly easy. That, coupled with the two color combination that I loved but figured I would get bored with before completing the project --made it seem impossible --- no matter how I drooled over the quilt. I even emailed a friend with EQ software thinking I could maneuver a short cut or too. I still just kept it as a quilt "wish".
Then I ran across a Pattern Basket Pattern called
Confetti Cake
. It uses Strip Piecing and a layer cake to create this:
I used muslin as a background fabric. It still needs a 7 inch border around it. I haven't decided on muslin or some yardage from the Blackbird Designs Harvest Home line. It was a fun quilt to cut out. I loved mixing and match the fabric strips. I can't wait to stretch and quilt it.
I'm a complete NFL junkie. Tonight is the first game of the season, so I'm completely psyched.
Confession ---my television has four remotes. Don is a 'Teckno-geek' and we have every high-def gadget hooked to it possible. I have always refused to learn anything about it. It was just easier to yell for Don or the kids– or throw a fit when it came to using it or when it didn't work. I simply chose to place no effort in learning about the TV or the remotes. Well – spending considerable time alone, last night I popped in a DVD for sewing and the DVD remote didn't work. Without a sigh – I rationalized I hadn't dropped it… no one else had touched it….it must be the batteries. And without hesitation I changed them and was back in business…No fit required….
I may just be growing up………