Thanksgiving was really special. Took some pictures, but kind of got caught up in the holiday that I forgot to photograph it like I should have. It was just the four of us. Instead of place cards--- my kids threatened to take me to the doctor if I used them with just four of us at the table---I opted for Thanksgiving verses.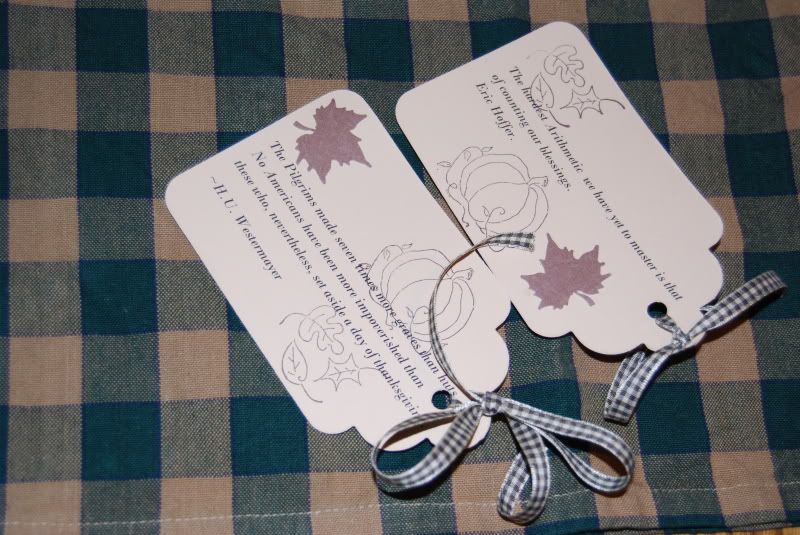 And Even though I got the "Mom, you are so cute" line, I think it was outstanding. I wanted to press the point home that the holiday was more than just about food.
Both kids are settled back into their college lives but as I look back on the weekend, it was definitely one of the more memorable ones. We Played
Buzzword
. If you want a great family game—this is it… We all still laugh over playing. Trust me—you won't be disappointed. Friday, Chels and I went to Appleton. Lots of shoppers--- but I could tell there wasn't so many buyers. We spent the day shopping for her an outfit for a Christmas party. She'd get a little frustrated and I'd calm her down---"Who cares what we're doing… at long as we're together…" By the end of the day, I think she recognized it. We ended the day at a quilt shop in Green Bay. And she spent the trip home trying to convert me to her "kind" of music….Where's Kenny Chesney when you need him?!?!?!?!
Saturday she returned to school, as she had to work. Don and Eric did their thing and I played in my sewing room. I started a tiny quilt. It was for a gift… but I may not be able to part with it.
On the advice of
Libby
--- I went to the scrap box and dug in. It does become addictive. When I look at this little 8 x 10 piece… all it keeps telling me is to "Appreciate the little things…"
I started work on a wall hanging. The pattern was a gift from
Colleen
. The stitching is complete.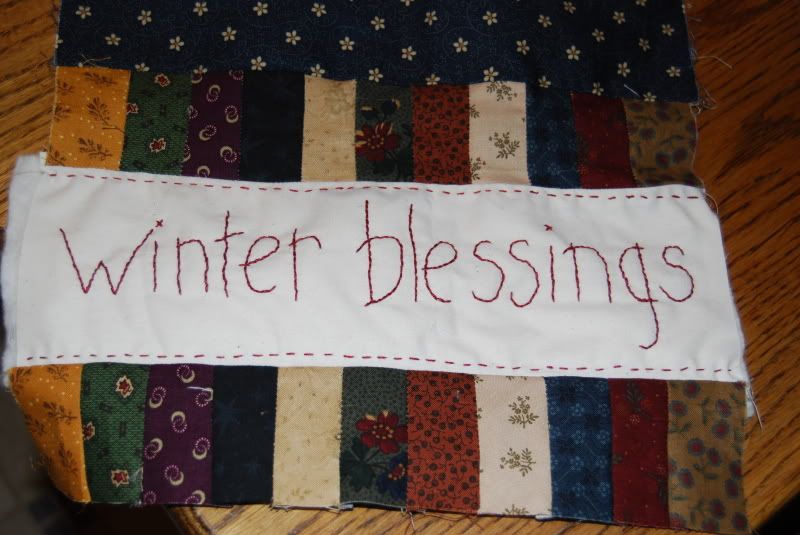 Over the last 12 months my stitching has improved.
I'm off to work. Did I say I have a "wife" this week? Don has a week of vacation. And I truly believe…"Every woman needs a wife…."
Gratitudes:
Safe travel for my kids
That scrap box of fabric
Mittens