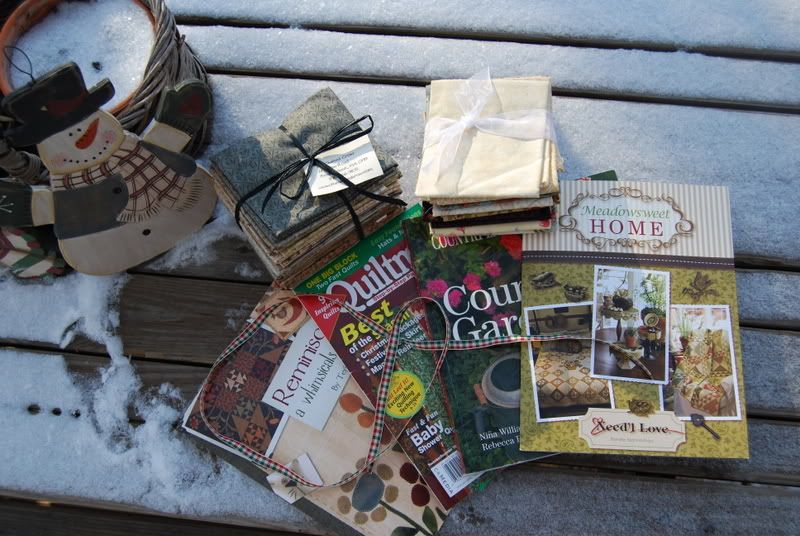 Here are the quilting treasures I received from my Mom and my Sister in law. I had been wishing over the quilt books for some time. Can't wait to snuggle up and read them cover to cover. We braved the weather--- totally stupid thing to do--- and went people watching in Green Bay yesterday and checked out the after Christmas sales. Eric and I both got new coats and Chelsey got some money for Christmas so she set out to maximize the return on the cash.
It was a fun day - and we played those silly car games on the way down...You remember-- My name is ADAM my wife's name is AVA. I'm from ALABAMA with and ARM full of APPLES--- Through the alphabet. We were all together and that is all that mattered.
We dropped Chelsey and a friend at the mall and Don and Eric took me to a quilt shop. I asked if they wanted to go in and Don's response was something like this---"I'm going toteach Eric the art form of Napping in the car while you shop..." I just laughed. I could have spent a million, but considering the treasures I had already received I settled for quilt backings for the quilts I plan on machine quilting this week. $4.00/yard-- was a great deal.
Plans for today--- a little "family" house cleaning, after all it's everyone's mess. We've got plans at a friends for New Year's Celebrating so we are having our Chinese cooking tradition today. Winter storm watches are in effect so we're staying close to home.