I have had so many good intentions for posting but life has been so busy. It's the good kind of busy so no complaints. My front porch is decorated for the holidays. I completed this wall quilt.
It was easy and fun—the red bird was my favorite part. The Santa mugs are out for Santa's coffee break.
Don and I went to Christmas parties last Thursday and Friday. Stayed out way too late, but had so much fun. Saturday night we had 5 couples over till the wee hours of the morning. I think the remainder of the Christmas season will be spent relaxing.
The trees are trimmed.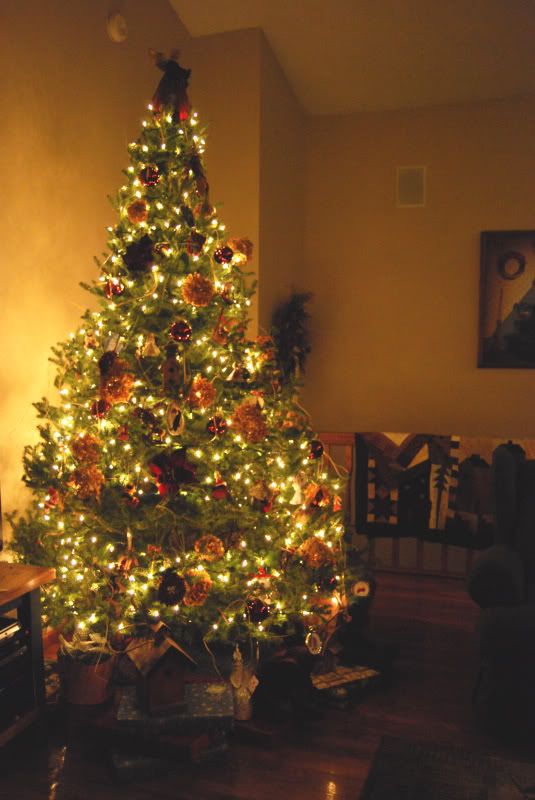 My tree sort of turned into a birdhouse Christmas tree this year.
I have collected abandoned birds nests for several years and now have 8 that are gently tucked into the tree each year.
Dried flowers and pinecones along with Chelsey's collection of Barbie ornaments trim the tree.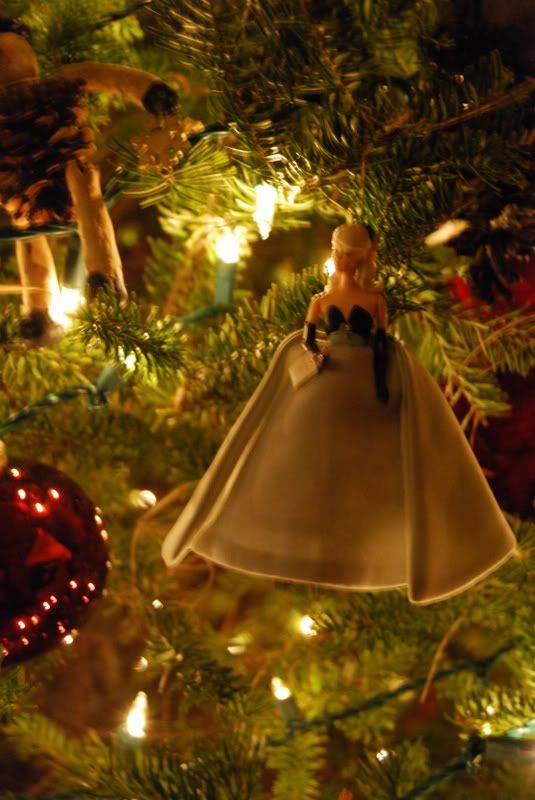 I got an email from Thimbleberries.com and it had this gift bag pattern that I whipped up Sunday night.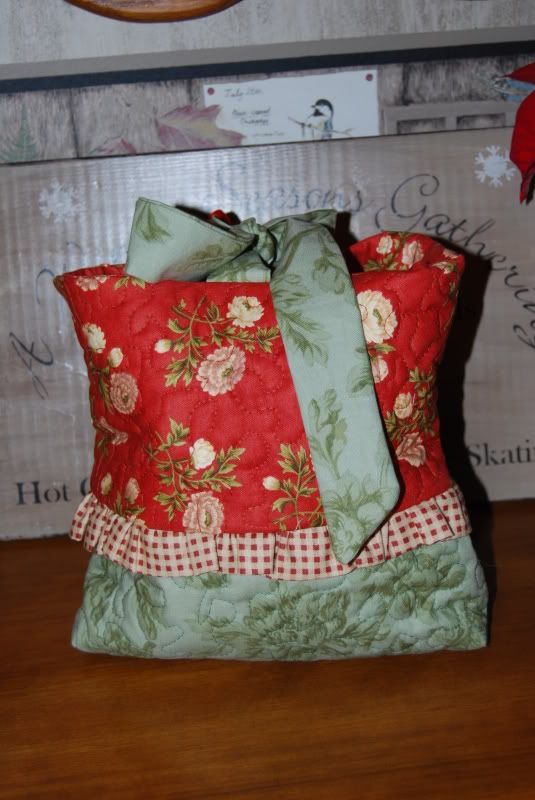 It's for my mom. I filled it with note cards, thank you notes and blank cards along with stamps, and pens as a Christmas gift. She's a faithful letter writer. I hope she likes it.
Melissa had the cutest sign and I fell in love with it.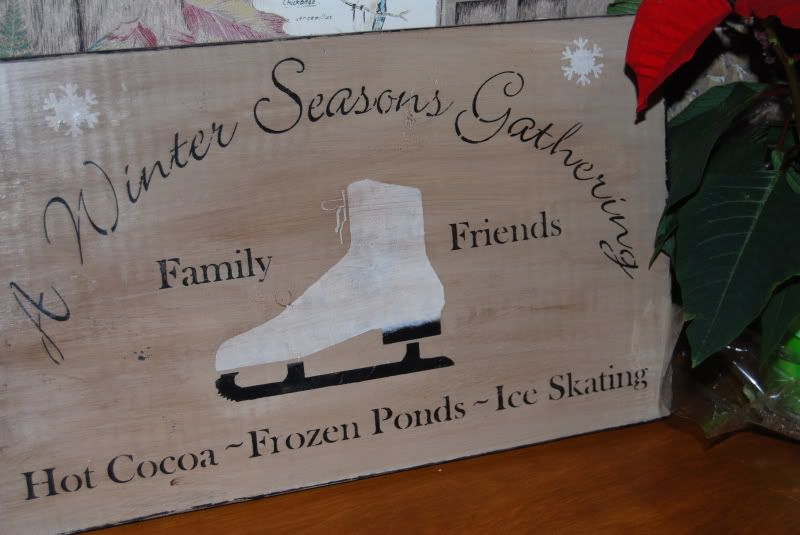 She gave me directions for purchasing it so now I have my own.
The first year we were married Don was out of work--- a lot of the time. It's why we ended up in Michigan. That first Christmas we lived in a duplex that had a complex of 4 apartments filled with little old ladies next to it. He made succor trees for each of the ladies.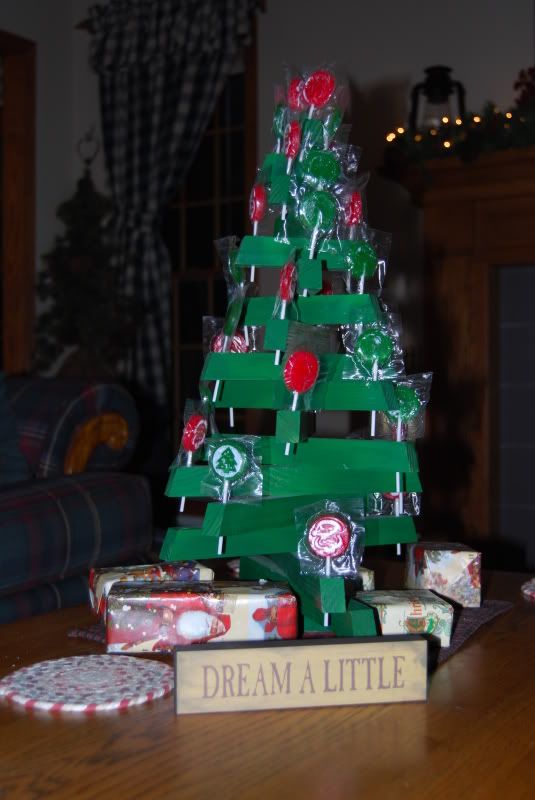 I laughed at the layers of paint that are building up. Christmas holds a lot of traditions for me and no matter how old, that tree is one of them.
The fireplace is lit up.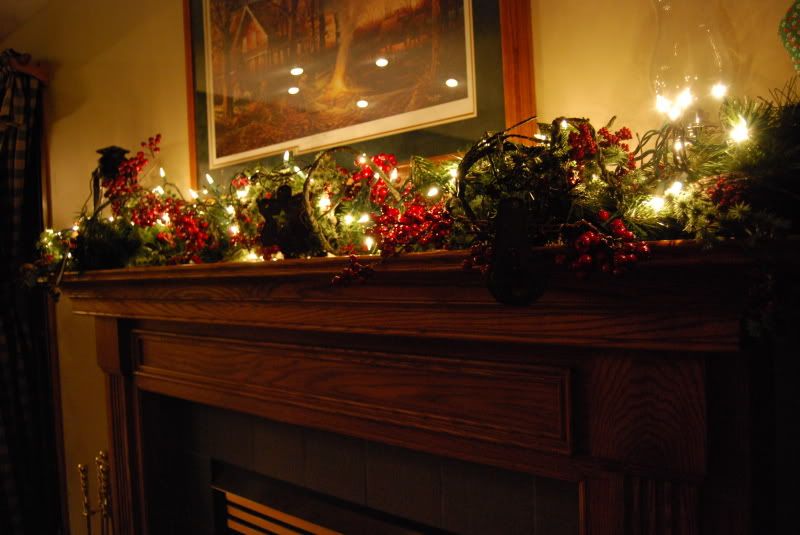 I decided to hang the stockings from my quilt ladder this year. With the 'Snow Drifted Inn"—sign at the top.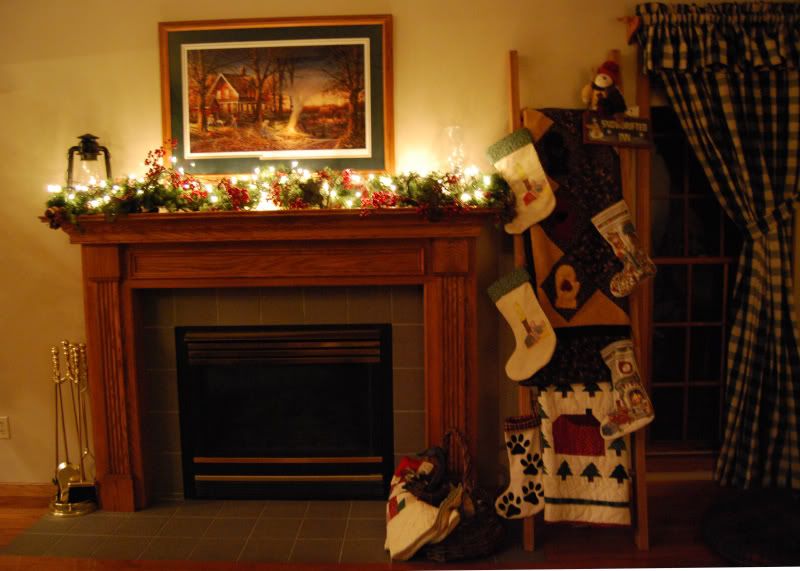 Chelsey got her tonsils taken out yesterday so I wasn't at work. She was at the hospital at 8 am. They took her to surgery at 10:30 am. I was bringing her home for 2 pm. It's a lot different than when I was a kid. I got up several times during the night checking on her. She, of course, was sound asleep. I got her up before I went to work let her shower. Talked to her about her medicine. Retrieved everything from the basement to keep her from going up and down stairs. I left for work with one of the worst guilt complexes I've had in a long time. I can promise you, Don never felt that. I went home and got her lunch sat down for a few minutes of "How the Grinch Stole Christmas" and made my way back to work. She's fine. Resting, even folded a load of laundry. She's 18 after all. But that doesn't change it for Moms. Sometimes it's just tough. But we press on….