It's Independence Day… The beginning of a three day weekend. As I lay in bed this morning, (6:30am as compared to the usually Friday 4:30 am) I contemplated the upcoming day. For the first time in about twelve years I had no child in the town Fourth of July Parade. I guess it's a sign of things ahead and the many changes to come. As a quiet reflection I decided not to attend the parade but yet sit back and remember good memories of the past. I got up with Ransom, and stitched until Don awoke.
Don and I ran three miles and began our day. Eric is away at school and Chelsey ran frantically to meet friends for the parade and a day at the lake. It would be just Don and I --- and Ransom for the day. We ate on the back Covered Porch.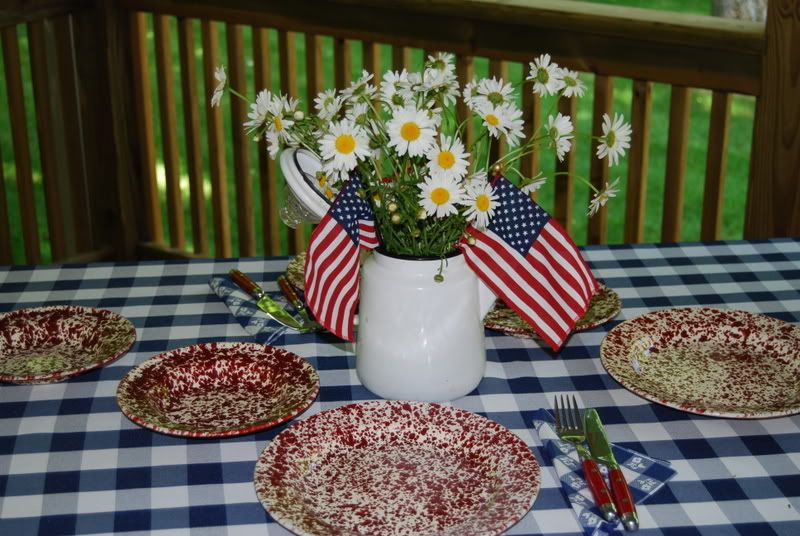 The Daisies grow wild in our woods. Ransom and I picked a bundle. Lunch was grilled shrimp and steamed vegetables followed by a lazy afternoon nap.
We woke to our afternoon pot of coffee on the porch. Funny—we both find ourselves pondering the next few months ahead.. not with dread..just with curiosity.
Ransom and I are off to the garden to battle the weeds. Don is staining one of the 7 six panel doors for the upstairs. It's our ---scratch that----
his
home improvement project for the summer. They're just beautiful… We've got a two mile run with Ransom this evening and our bike ride on the docket….oh and I plan on talking Don into Ice cream.
Enjoy your weekend--- these summer days pass so quickly