Goal for the weekend--- to catch up on my block of the month projects… Below are my Quilters Blessings quilt squares from Capricorn quilts.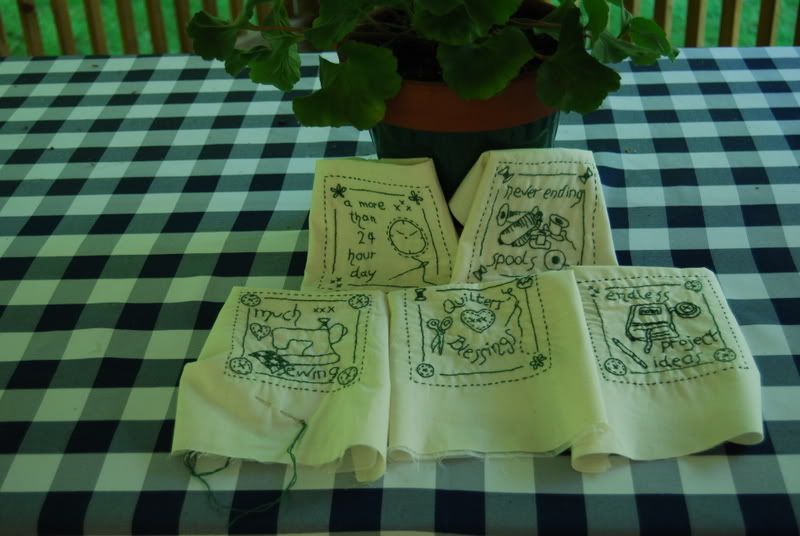 The June block is in progress so I'm counting it caught up. No pressure…just enjoying the process. Joann's had there perle cotton on sale. After a rough week at work a couple of weeks ago I needed to treat myself.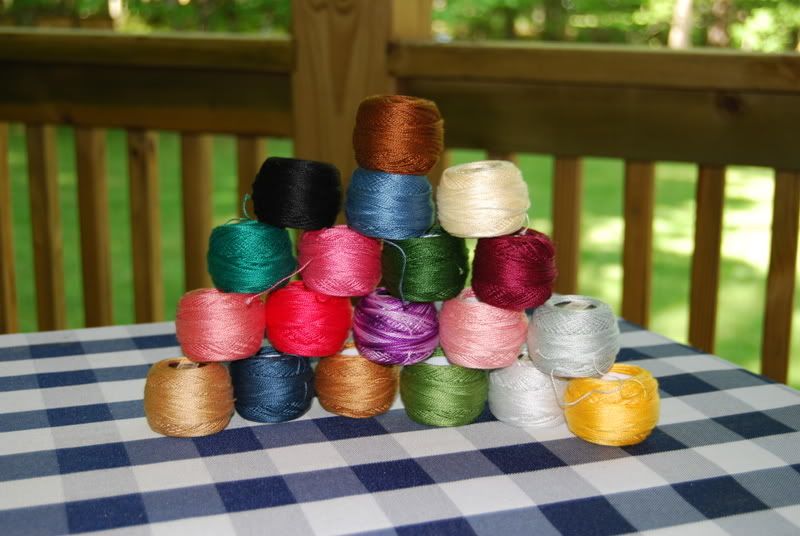 To a quilter, at least to me, this is better than candy…No rhyme nor reason, I just picked out several pretty colors. But I am setting up a 3 x 5 card with numbering so I'll be a little more organized and know I have.
These Iron-On transfers were a gift from Catherine at
Willow Valley Store
.
I'm planning on ironing them to tea dyed muslin and making postcards with that new perle cotton.
Eric is away at summer school, settling into the groove of 'Bio-Chemistry'. I have no idea what it's all about, but I call him every so often and make him talk to me about it. It sounds marvelous and Makes a mom feel like she's getting her money's worth.
Chelsey is away at a friend's wedding this weekend so Ransom, Don, and I are the 'Dynamic Trio' of sorts. Don tested teenagers for their black belt in Tae kwon do last night, so I plowed through the weekly chores, so the weekend was truly ours for leisure. Make a bike ride or two, some grilling, definitely a milkshake and some quilting.
But honestly the U.P. summers are so short I kind of play by the rule, " The sewing machine only gets turned on rainy days and after sunset." There's plenty of hand sewing to be done…out on the Covered Porch. The ceiling fans provide a nice breeze, keep the bugs at bay, and seem to hum along with the birds…. Enjoy your weekend…