A Random Act of Kindness
…..Quilters are famous for these….sharing patterns, books, squares of fabric. Quilters make quilts for fundraisers for worthy causes throughout the country and through the world. Friday I had a Random Act of Kindness bestowed upon me.
The timing was everything. Someone was let go at work this week. A good man, just the sales numbers didn't add up. It was a mathematical decision. Doesn't make it any easier to swallow, but it happened. I came home and had a package in my mailbox. No card, just a Maryland return address. I remember admiring a pink and brown quilt.
The seamstress included the remnants for bindings and backings. I feel so special…it sort of healed the tough week on the job.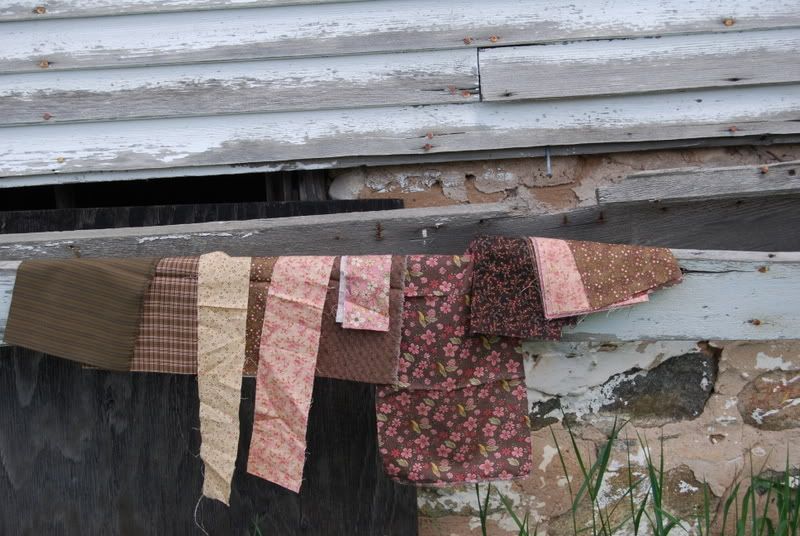 I've folded and unfolded both the quilt and the fabrics several times just admiring them. Don's been out of town so it's been up to Ransom and I to work through our disappointments on our own.
We went up the road to an old abandoned house and barn I've travelled by several times.
People find beauty in different places. This was the place for my pictures. Overgrown grass, trees and bushes provided the perfect background to the worn paint and rust.
Thanks friend--- I really love your piece. Wish you would email me….. I've already measured out the batting to complete it. If I have any say—your kindness will be repaid tenfold…..
Thank you…….