My humility block…. That's what I think of when I see this block of my Primitive Garden BOM quilt. It seemed fitting to photograph it close to the garden, even though I waded through 18 inches of snow to photograph it. It's lying on my planting table outside the garden gate. Why do I call it my humility block? Well, it was started the first week in December and cut out 20 minutes before I travelled to Louisiana. It was stitched on at various airports. It looks far from the pattern snapshot. But I smile anyway, because I remember a great trip. I remember working on it several nights when I couldn't sleep worrying over teenage turmoil with my daughter. I remember stitching on it while Eric took his finals and travelling home for Christmas break. It really wasn't a piece that I worked on meticulously like the others, but it marks an important time in the past year--- and it's complete.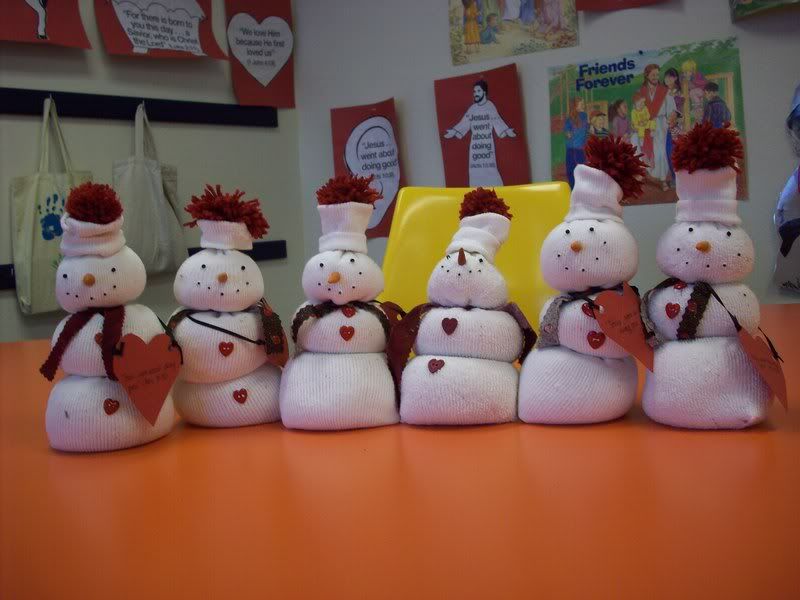 Sunday it was 18 below zero. The wind chills were far colder than that. I figured I wouldn't have any kids in my Sunday school class, but I braved the winds and made it there. Our lesson was on Jesus healing the cripple woman and we walked up and down the hall with our hands on our knees--- a realistic effect to four-year-olds. We made these snowmen from socks filled with rice. The kids were so smart—all six of them.
An incredible week at work – I sold an airplane this week. Like Chelsey says, " My Mom makes quilts… and sells aircraft." I probably won't make another post this week, so I want to share my Christmas gift from my kids. I haven't lost my weakness for dishes.
While I'm wishing for a picnic in the photo – truthfully I wanted to show you--- These are Crème and Burgundy, not the traditional red and white. I'm totally charmed with them and I have a place setting for 8.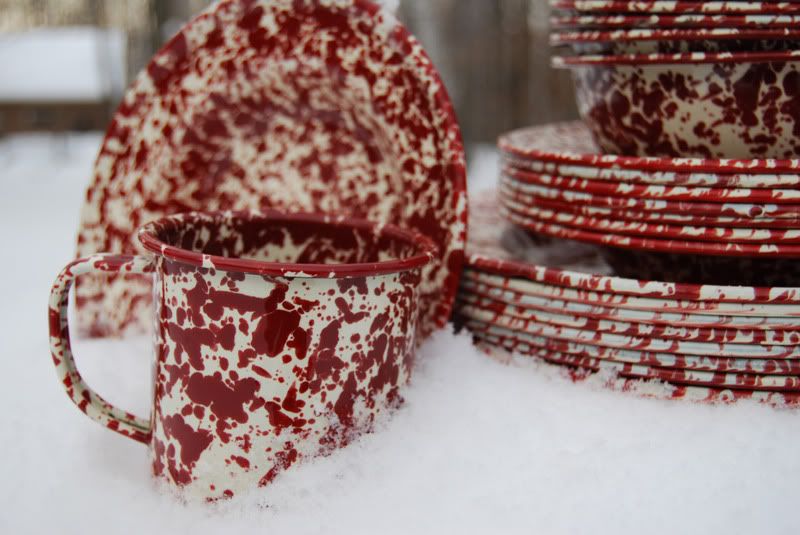 Who cares what you eat when you have dishes like these….
Back to the quilt block, after every completion I'm inspired to press on. I've got my last block prepped for appliquéing. So, I'm working on it a little each night. I'll have it complete before you know.
Snuggle up with someone you love--- the nights are too cold not to.