It's Monday Morning--- early. Surprise snowstorm hit Sunday. Eric had come home for the weekend. He ended staying till this morning because of weather. We were assured it was the right move when they cancelled his classes for today. Chelsey was downstate (Sounds like they were trading places) speaking for FCCLA. She had driven herself to Green Bay and flown to Midland from there. Coming home turned out to be an adventure. When she landed in Green Bay – she knew she wasn't getting any further North till morning, so we got her a hotel reservation and she camp out till sometime today.
Don had taken Friday off to knock out the housework before Eric got home—what a guy. So I got up Saturday morning with nothing to do--- but quilt. For Valentine's Day, He asked me if I wanted to order me some "quilt junk", so I took him up on it. I had succumbed to peer pressure, jealousy and envy. I had seen photos of
Carol's
BOM pieces and memorized the photos of a California quilt shop from
Sharon's
posts. So, I voted for the gift that keeps on giving. The Four Seasons Quilt is what it's called. Easy and relaxing are the first two things I think of when working on it. While ordering on-line is fun, there is something about placing the order to a real voice on the other end of a phone line. I dialed the
Country Loft Quilt shop's
number and spoke with the designer of the quilt.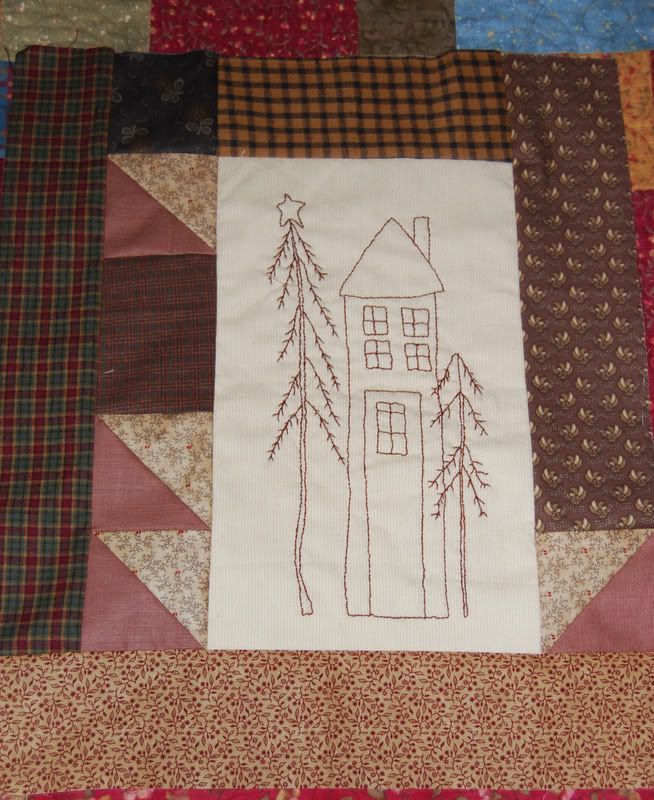 We chatted for a good 20 minutes about quilting, perle cotton—I had never used it before—the pattern pieces. She was wonderful. She even threw needles in my order at my request to make life easier. I'll definitely be a repeat shopper.
My Mother-in-law gives me quilt money for my birthday. While my birthday is a month away – I got scared what I wanted would have disappeared by the time March rolls around. So I've done a little Pre-Birthday shopping at Don's expense with an IOU on the credit card.
Dawn
had worked on a quilt a couple of years ago. It was way out of my budget and could only be found in Australia. I chalked it off to a hopeless wish. And then
Colleen
has it on the header of her web log. Again – a reminder of the quilt. I was wishing through
Buggy Barn quilts
and saw that they were offering it as a Block of the month and thought it was destiny. Again, wanting to order from a "voice", I called the shop. I spoke with a wonderful lady. She called herself a "beginning" Quilter. All I kept thinking was, "Man, you have a cool job." She was doing the quilt too. She offered tips and we talked about the houses and the colors. It showed up on my doorstep on Friday, so Saturday I put the block together.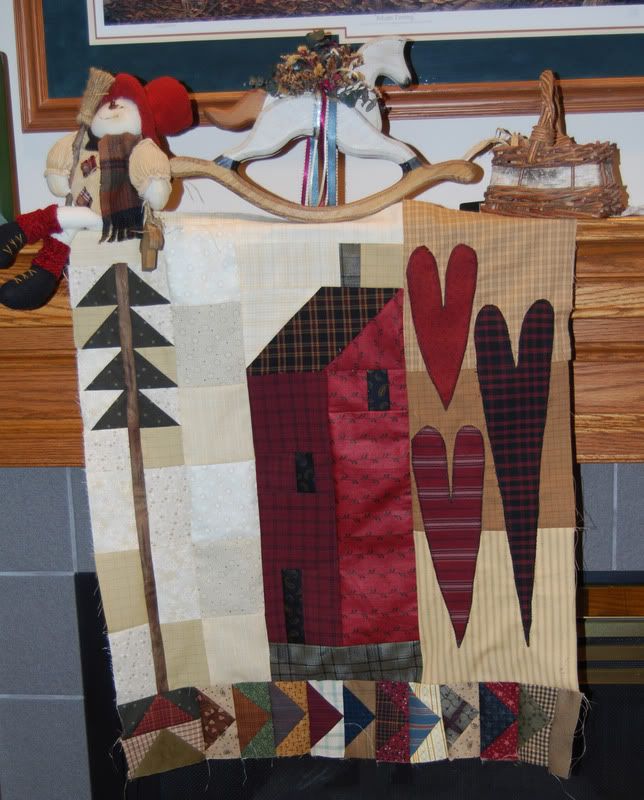 Sunday I went back to work on the Primitive Garden. I have started studying the borders. When I'm on the Elliptical Machine I'm studying quilt patterns – it gets me through the work out. I probably could have made REAL headway on the Primitive Garden this weekend if I had just stuck to working on it. But I had so much fun doing some machine piecing and working on my French knots. And quilting is a hobby for me….it's supposed to be fun…..
Take out pizza, movie rentals, listening to Eric practice his Russian (a cultural elective he opted for), and watching Don and Eric wrestle with Ransom topped off on of the best weekends in a while.
Gratitudes:
Safe flights for Chelsey
Valentine's Holiday that seemed to last four days instead of one
Shoveling snow—Believe it or not… Don and I worked on it together Sunday… Everything is better in twos….