Last Friday was a holiday--- 29 years since the first date with my husband…..And it landed on a Friday night just like the first time. I have had a few "first dates", but can't remember the details…but I remember every single detail with him….I guess that's how you know if he's "the one".
We went to pick up my sewing machine that went in the shop for 4 months….it's like the return of a long lost son. And it purrs like a kitten. Don also bought me this Grace frame.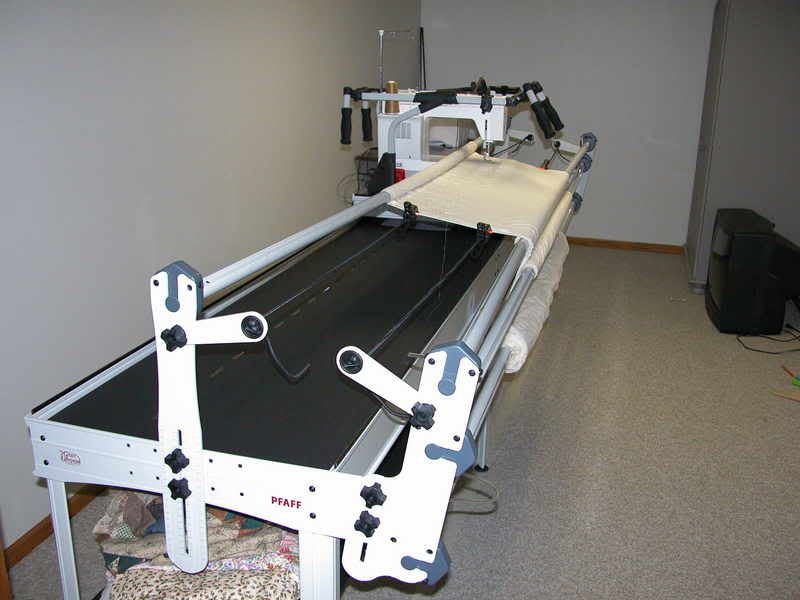 I'm totally enchanted with it. We talked about it, and it's a first step into the world of long arm quilting without the huge expense. I can practice, have fun, get my kids through college etc. The biggest struggle I had with machine quilting is the tucks in the back from the quilt not being stretched well enough. Problem solved. I'm basically a weekend quilter, Maybe 2 or 3 big projects a year, so I'm excited about the new toy. And you should see the feathers I'm whipping out on my practice quilt. Eric called this weekend and gave me sass…"Gee mom, I don't think Aunt Bee had one of those…. I think I maybe could even quilt with that thing…."
Don put the contraption together; I studied the book. I just kind of looked at it for about 24 hours. And Don asked "You don't like it???" I loved it. I was just scared to death of it. And that's the way it always is….. even good changes and new things are tough for me. But thanks to his nudging… I've been meandering and playing with pantograms all afternoon…after the Packer game, of course.
I still have to press my Primitive Garden block,
but here's the latest completion. I have 3 blocks to go. The little purple flowers had tiny petals on them. It was just way too tedious for me. I want to relax and enjoy this so I made the executive decision to turn them into primitive "circle flowers" and I think they look just fine. I received the first border in the mail last week. It's appliqué also. I'm thinking about making it just solid and omitting it. There's patchwork throughout the center that will connect the blocks, so I don't think it will even look like "it's missing something". But the jury is still out on that decision….
Chelsey is downstate teaching a Leadership workshop. So we've been without kids for 3 days with 3 to go…Even Don says…. This is kinda nice….