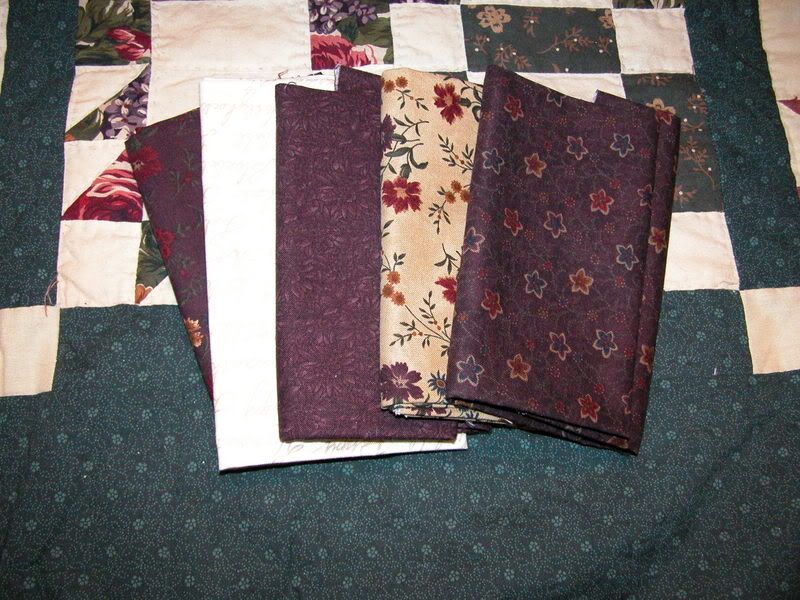 I'm not even a "purple" person, but I've been holding onto these fabrics for a week. Contemplating a couple of Christmas gifts, I think I'm going to put these to good use this weekend.
Eric made it home safely. Due to an "issue" with his laundry card, he brought home a ton of dirty laundry to share. I just laughed. The turkey's thawing. The menu's planned. We're not having out of town family. It'll just be the four of us. But don't feel bad for us. We have great holidays with just the four of us. Everyone helps cook the meal. Board games are played. Snacks and cheese and sausage trays are a definite. We're not worried about protocol and the clothes we're wearing. It's fun. I have great thanksgiving memories with just the four of us.
The faces have been embroidered on the bears. I was nervous about doing it---not wanting to mess up the quilt, but I'm pleased. I even got the buttons on the night gowns.
I did some mending and played with the Primitive Garden blocks a little last night waiting on Eric.
It's been overcast all week, snow showers that melt by daylight every day. We'll have snow soon enough.
I guess it's only fitting to pause and count our blessings this time of year. I'm grateful for—
My faith
My family
My job
My quilting--- It has opened doors in finding friends. Quilting has given me something constructive to do with 'free time'. It has allowed me give and share with others…an incredibly good feeling. On the other side, Quilters have shared so many wonderful things with me. Quilting has given me an appreciation for quilters both past and present and their talents in creating beauty from squares of cloth.
Happy Thanksgiving.