I'm thrilled. I finally got my 3rd block completed for my Primitive Garden.The block hasn't been pressed yet, but I couldn't wait.... It's only fitting to photograph it on a barbed wire fence since the block is a picture of that.
I've got the fourth blocked marked and cut, now for the pressing and stitching. On the next block, I'll take a before and after photo. It's amazing (I think) how the stitching brings the block to life. The blocks are kinda 'naked' with out it.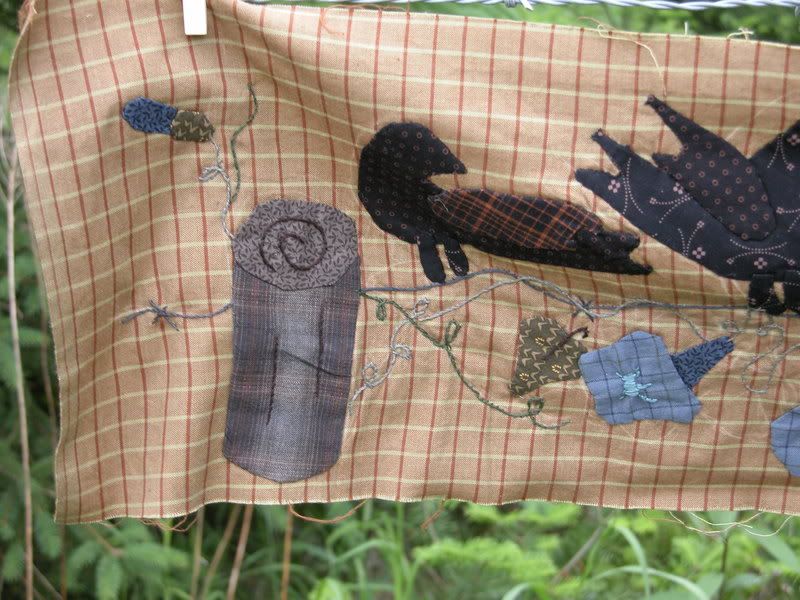 Lessons learned—I've shared with several already. I placed a lightweight interfacing on the back of the block and it made the quilting and stitching a lot easier and the fabric anchored in the hoop a lot better. On the crows-- I cut off the legs and appliquéd them separately.
I'm just not that detailed a person and it was impossible for me to appliqué them otherwise. I also took a tip from Leanne Beasley, and sewed scrap fabric around the edge to give myself more holding room in the quilting frame. I used the widest stitch on my machine and the seam-ripped it after the block was complete.
I started this project a month late. I said I'd never do another BOM because my attention span failed. But I am really enjoying this. I'm now 2 months behind, but I'm not stressing at all. I'm having fun and it's a nice portable project. Who wants to be stuck in the basement during a U.P. Summer?!?!?!
On the home front, Chelsey flew to Mexico with her Spanish class yesterday. I hope she has fun. Seventeen-year-old girls go through a lot growing up--- so do their parents. I hope she spends some time thinking while she's there.
I've completed the first week on my 365- challenge quilt. Pictures coming this weekend.
Isn't this a great birdhouse?!?!? This is on the road where I live. I don't know whether it's the evergreens in the background, the wire fence or the mossy stuff growing on it. I just loved the picture...
Gratitudes:
Chelsey's safe flight
My guys at home listening patiently to "quilt talk".
Summer time weather.